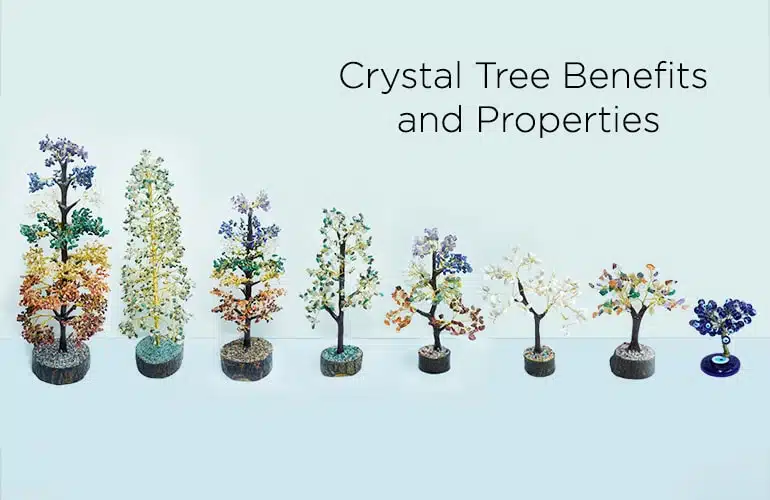 Do you want a tree that brings good luck and happiness to your home and office & doesn't require watering too? Crystal tree is the way to go! Crystal trees are made up of natural crystals that shine with their natural beauty. The decorative mini trees are made up of genuine crystals that rectify bad energy and improve energy balance within the house. The free-flowing abundance of energy attracts positivity into the home.
Interested in enjoying crystal benefits while decorating your space with beautiful decor pieces? You can place crystal trees on the study desk, office table, near the entrance, etc., anywhere you want and not worry about watering them. Such a tree has both spiritual and philosophical significance. It brings dependability and trustworthiness into life. Just like the way the tree roots spread underground, crystal trees connect the soul spiritually. It reaches high and branches widely, unlocking new opportunities.
Crystal Trees Health Benefits
The Crystal trees bring growth, stability, abundance, togetherness, strength, fertility, and more. In feng shui, crystal trees are rectifiers and enhancers. The branches are normally made of copper or golden-coloured wires. They have interesting trunks.
You can enjoy the benefits of crystal trees based on the crystals used. By driving away negative energy, you can attract healthy and healing energy. Following are some of the benefits of crystal trees:
Bring good luck and new opportunities
Attract love and romance
Improve studies and concentration
Promote a good night's sleep
Increase good luck in studies
Promote family peace and harmony
Remove imbalances and promote the free flow of energy
Attract positive vibrations
Cleanse the chakras to prevent energy blockage
Which Crystal Tree You Should Choose?
The choice of crystal tree depends on what you want to manifest in your home or office. Crystal tree benefits depend on the crystals used in the tree. Multicoloured crystal trees look beautiful and are a great home decor piece that can bring you joy.
Wealth Tree: A wealth tree is made of crystals associated with prosperity and good luck. It attracts wealth, growth, and protection. It is a great choice for someone starting to try new things with their business.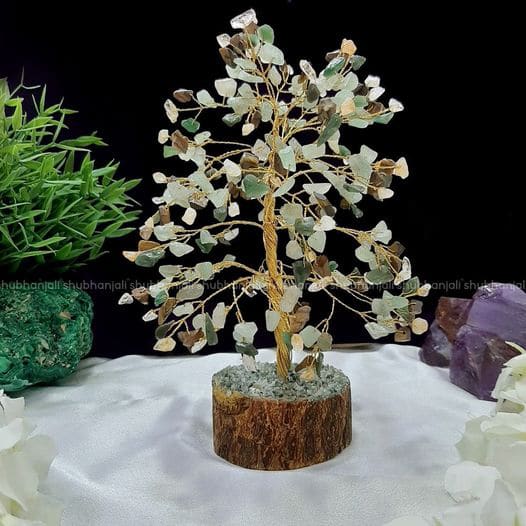 Seven Chakra Crystal Tree: To get all the benefits from a crystal tree, choose a seven-chakra tree made of multiple types of crystals that awaken all the seven chakras in the body. It attracts positive cosmic energy and helps heal the mind and soul. If you feel turbulent and tired, the seven-chakra crystal tree is just what you need.
Amethyst Crystal Tree: A tree made of amethyst Crystal balances crown chakra and encourages the free flow of protective energies. It helps in solving emotional problems and gives out healing energy. It clears the mind and improves concentration.
Citrine Crystal Tree – Layered tree made of citrine brings prosperity and abundance. It carries the power of the sun to comfort and energize you. It awakens imagination and creativity.
Red Jasper Tree: Red Jasper crystal tree is excellent for increasing protective energy inside the house. It is great for pregnant women as Red Jasper facilitates foetal growth.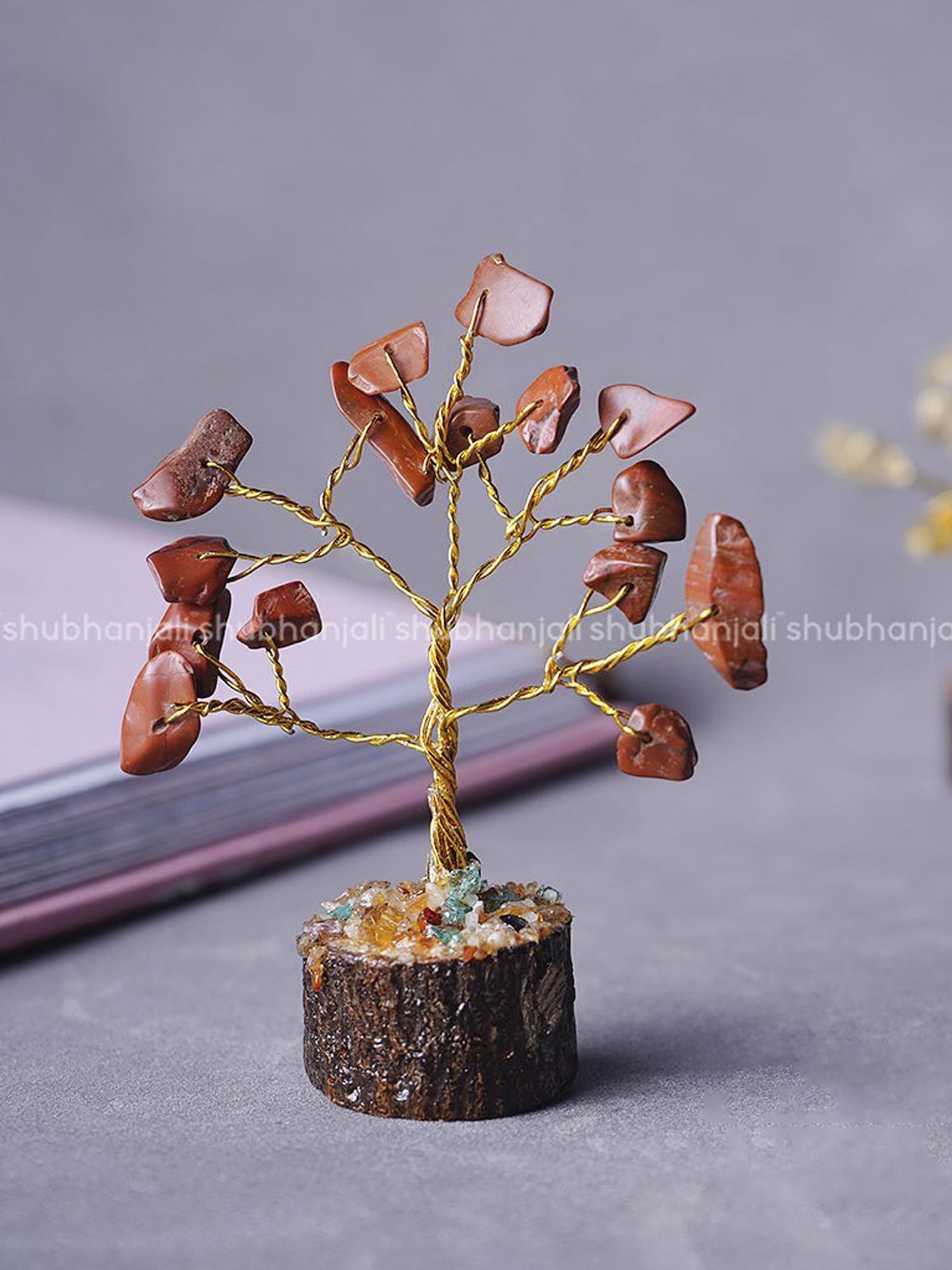 Red Carnelian Tree: Red carnelian tree removes creative blocks. It is great for those who are working on new projects. Also, it boosts self-esteem and confidence. It removes negative feelings such as jealousy, anger, laziness, and more. 
Lapis Lazuli Crystal Tree: Lapis Lazuli crystal trees are great for the fifth chakra. It opens up communication and creativity. It is also a highly spiritual tree that keeps you grounded. If you have respiratory disorders, being around the Lapis Lazuli crystal tree will help clear away the blockages in the throat chakra. 
Labradorite Crystal Tree – Crystal trees made out of labradorite brings transformational life changes. It ensures protection and improves intuitions. It helps you to make clear decisions.
Clear Quartz Tree: Clear quartz crystal tree is a soul cleanser that neutralises background radiation. It removes electromagnetTreeic smog and improves mental health and emotional well-being.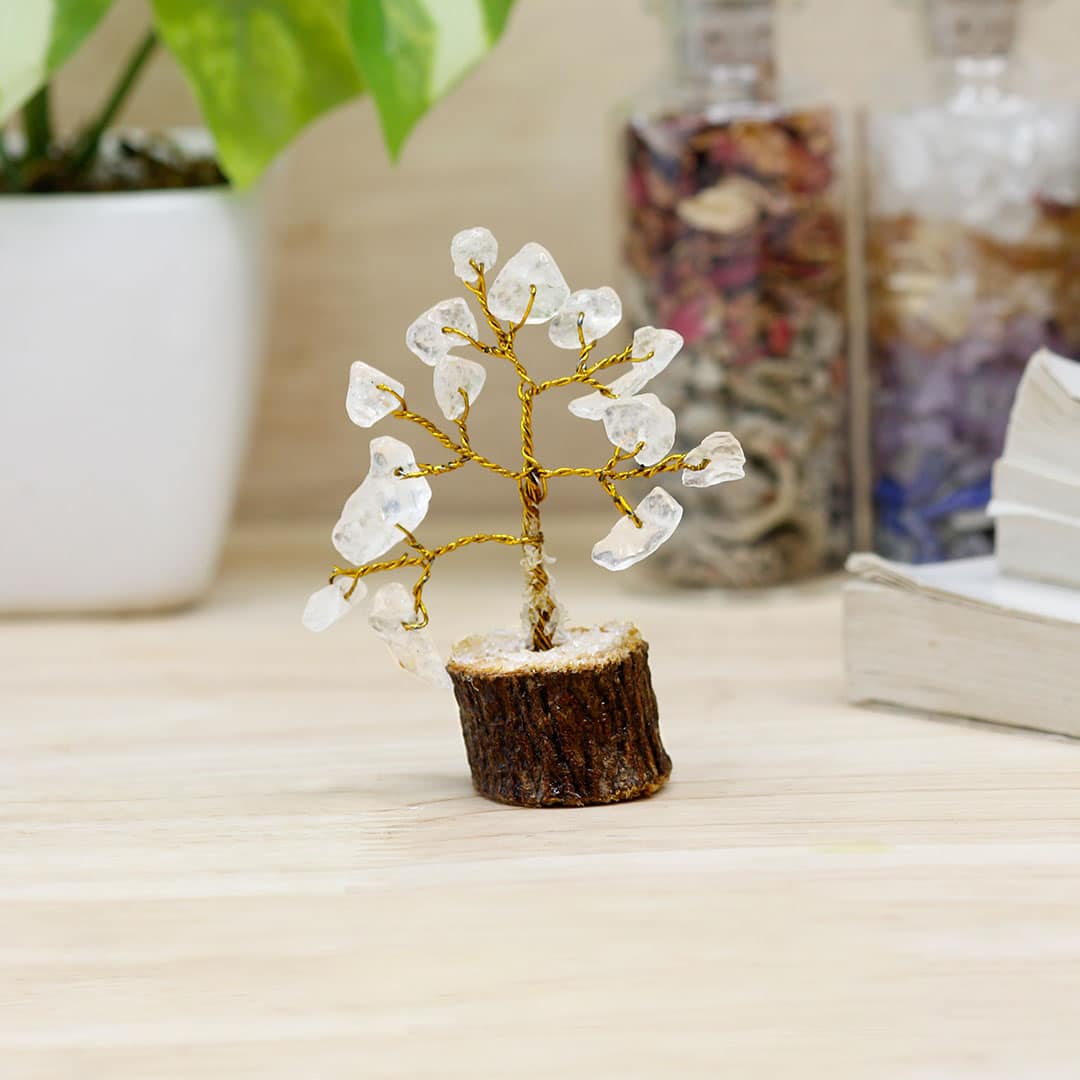 Green Aventurine Tree – Trees made of Green Aventurine greatly help with allergies. It is excellent for the heart chakra, and it removes blockages. It helps a person to find his centre and align with the innermost feelings.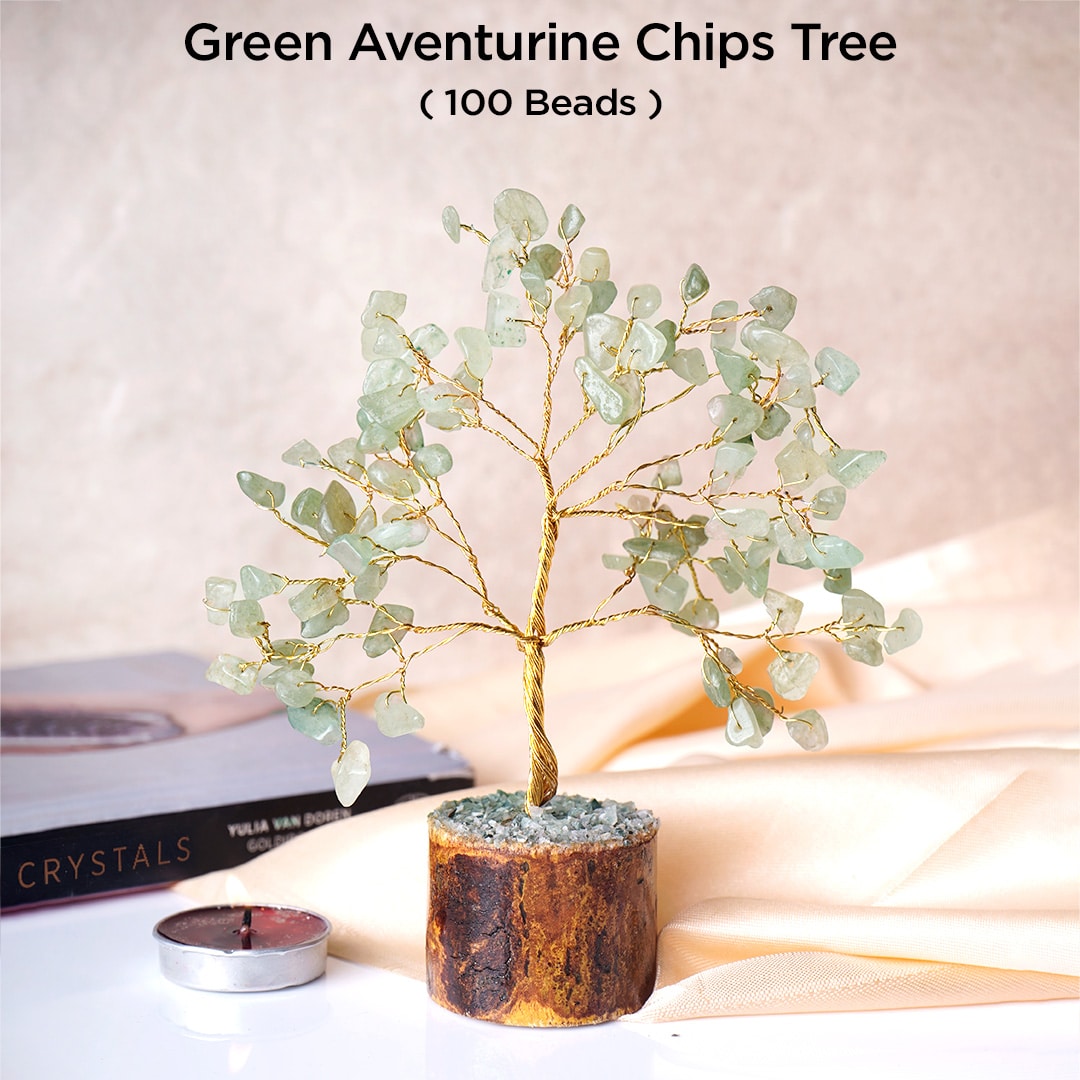 Rose Quartz Tree: Crystal trees made of rose quartz bring love and abundance into your life. The stone of romance improves passion in your life, and it is a great choice for bedroom decor.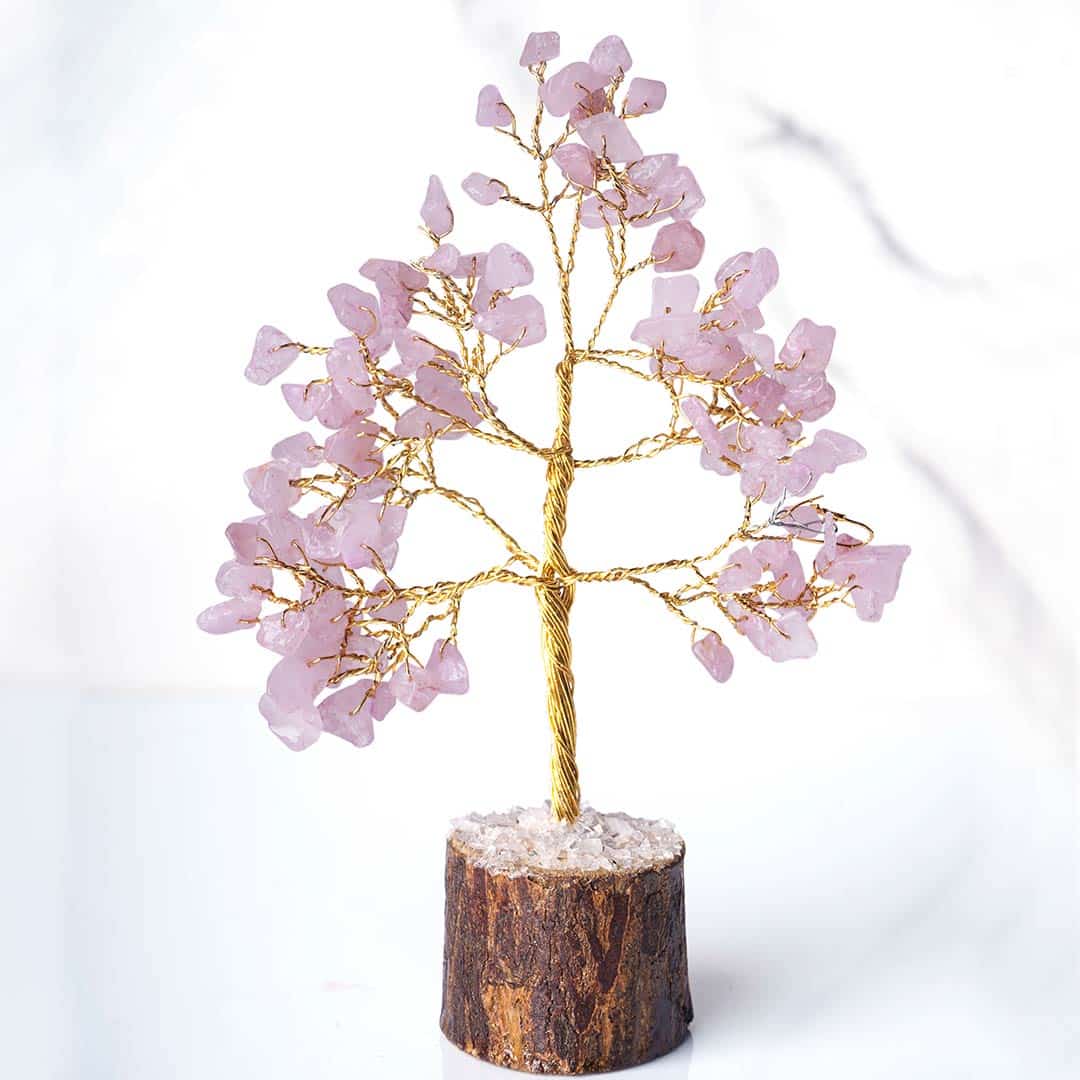 Green Jade Crystal Tree: Green jade trees remove irritability and other negative feelings. It dramatically boosts emotional health and brings calmness to the mind.
Black Tourmaline Tree – Black tourmaline protects against negative energies. It removes pollutants from the environment and resolves internal conflicts.
Evil eye tree: The primary purpose of the evil eye crystal is to remove the adverse effects of the evil eye. Having an evil eye tree drives away negativity from life. It brings in good luck.
All-rounder/Multicolour Crystal tree – Multicolor crystal trees are a great choice to overcome physical, mental, emotional, and spiritual problems. This tree supports vitality, and it is an excellent choice for someone who is looking for crystal trees with a multitude of benefits.
Gomti chakra tree: Gomti chakra is praised for bringing infinite peace and abundance. The white-coloured circular stone represents the goddess Lakshmi and resembles the Sudharshan chakra. Usually, the Gomti chakra tree is arranged in a flower pattern with a Rudraksha at the centre, which further protects it from negativity.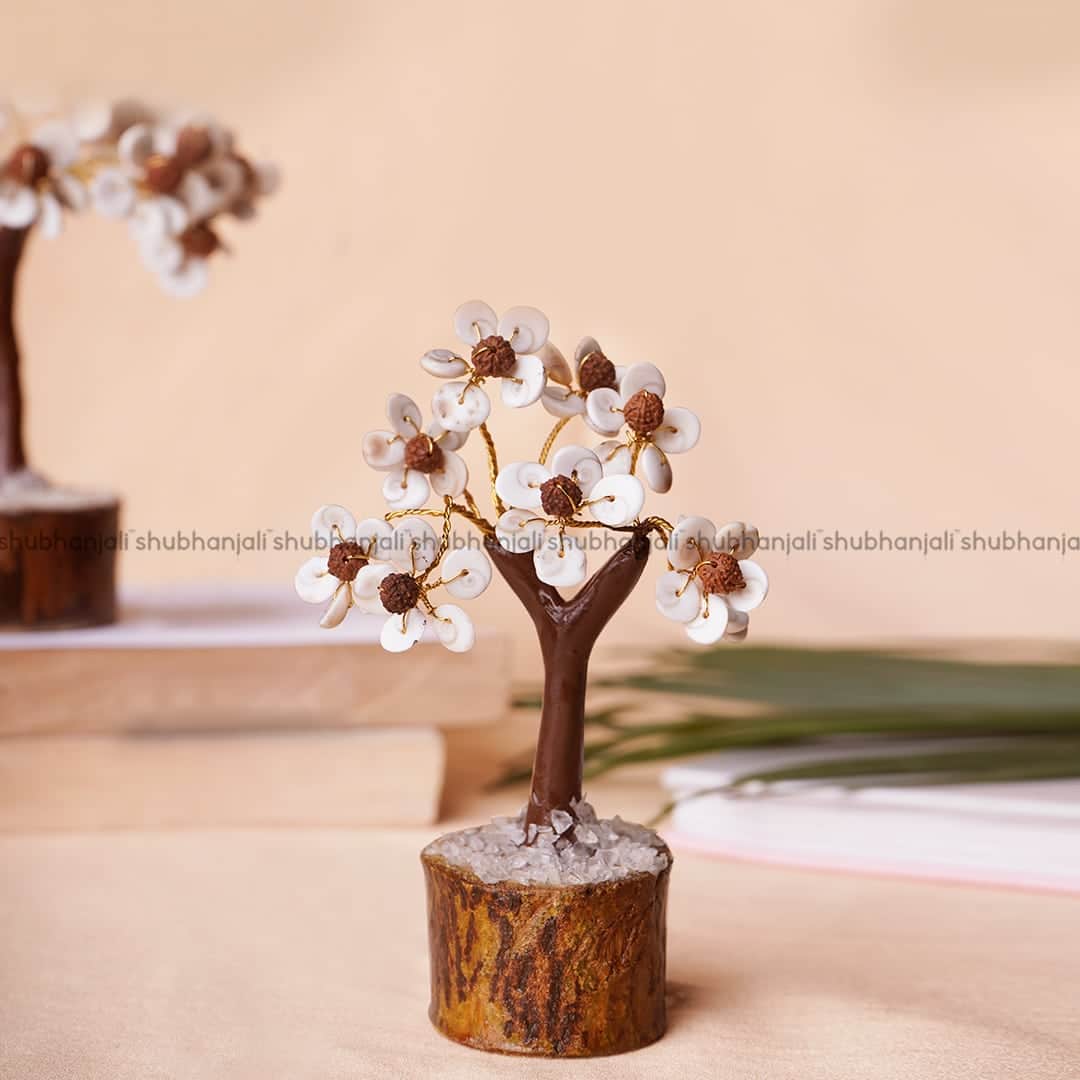 Crystal Trees for Home and Office Décor
Crystal trees are decorative miniature trees also called crystal bonsai trees that are made from natural crystal stones. The beautiful crystal tree's cleansing and healing properties energize the place and bring positive energy to your room area. Multicolour and colourful crystal trees are suitable to place as a decorative item in your home or working place.
These trees are used in Feng Shui practices for Good luck, Vaastu correction, Reiki healing and Meditation. Crystal trees embody flexibility and kindness. They not only cultivate good qualities in life, but they also serve as beautiful decorative pieces.
The wood element brings nourishment, and the fruit trees symbolize bounty in life. You can choose trees made of crystal beads based on what you want. The tree's shape collects dust and must be cleaned occasionally. For energies the crystal tree you should also place the crystal tree under the Sunlight or Moonlight once weekly or monthly.
Shubhanjali Store has some of the best crystal trees that add natural beauty and charm to your home or office. You can even find 7 chakra trees with crystal chips that add magnificent beauty to your home interior. For quick delivery to your doorstep, order your favourite crystal trees online. Alternatively, visit the Santa Cruz and Goregaon Mumbai store to see the crystal tree in person before purchasing.