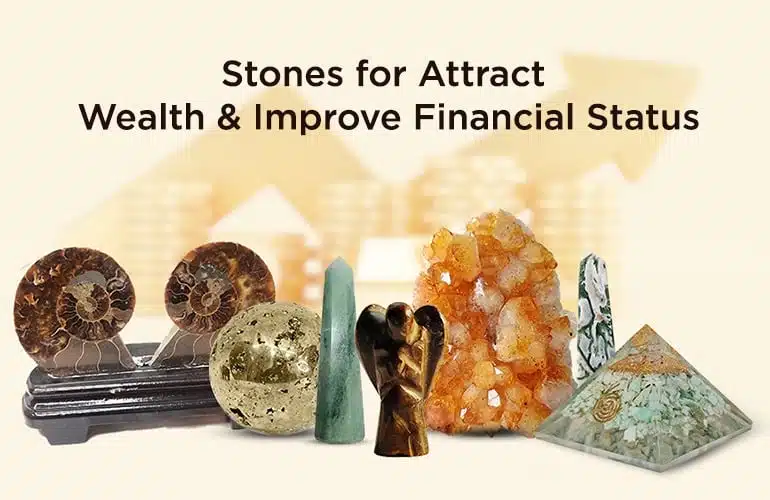 Exponential business growth sounds quite fancy, but the struggle is real behind the scenes. Every business reaches growth after multiple setbacks, failures, and medical crises. Unexpected financial setbacks in business also affect the company's employees with job loss and salary decrement. However, things change with time, and you can't be fearful. Rather, it would be best if you are wise enough to take smart decisions for yourself and the company. Attracting more money is the only way to combat the financial crisis. Efforts are crucial, but stones for financial growth also prove to be helpful with their healing properties. Of course, these crystals can't make money if you sit idle. But, experts believe that you can promote good luck and fortune by manifesting the energies of these crystals. They possess spectacular healing and magical properties if you believe in crystal therapy.
Pyrite
As pyrite resembles gold with its brassy colouring, it's also known as Fool's gold. Pyrite crystal stone helps clear the blockages from the Sacral and Solar plexus chakra, which helps us pursue our passion without hindrances. Also, placing this crystal in your office space or wherever you work will promote creative thinking and attract wealth and abundance.
Citrine
It's said that bright colours always attract attention. Just like sunshine, citrine also spreads warmth by giving you confidence and helping you plan your wealth. Manifest whatever you aim financially by meditating with citrine crystal to activate your crown chakra and erase all negativity around it.
Green Aventurine
Green Aventurine crystal stone is associated with the heart chakra and brings good luck and prosperity. It's quite often known as a stone of opportunity and wealth, as the vibrations of this crystal helps in taking wiser decisions for better cash flow. Place green aventurine stones in cash boxes, wallets or where you keep your bills to promote financial luck.
Tigers Eye Stone
Tigers eye stone is directly associated with the root chakra and solar plexus chakra. Activate your root chakra during meditation to enhance your health and good luck. It helps clear mental blockages and brings better viewpoints during critical circumstances to manifest money.
Ammonite
Keep Ammonite crystal at home to bring everyone good luck, wealth, prosperity and success. Keeping this crystal at home will clear all the mental blockages and stimulate your knowledge power, as this crystal is directly associated with the third eye chakra.
Green Tourmaline
Add a vibrant gemstone to your collection with green tourmaline crystal stone. Green Tourmaline crystal stimulates your creativity to develop fresh ideas. The perfect roadmap for business growth is being creative every time you pitch an idea. It will eventually lead to business growth and improve your financial status.
Moss agate Stone
A balanced mind helps in balancing your business or work better. If you are a person who constantly needs calming vibes around them, moss agate stone is the perfect one for you. Keeping this stone by your desk or in the eastern areas of your home will help you focus better with more patience to bring prosperity and abundance. If you are looking forward to starting a new business, use moss agate stone, as it has a strong connection in boosting creativity.
Every crystal stone has a different characteristic and different use. You have to choose which one is the best for you. At Shubhanjali, we have crystal jewellery, crystal balls, crystal Pyramid, and much more for you. Browse through to make your favourite one yours.