Every person has an aura around them. The aura is simply energy surrounding the person. Solids and liquids are made up of atoms tightly bound together and in constant relationship. This is called the energy field, which absorbs negative and positive energies throughout the day. Do you feel happy and energetic when you see someone? Do you feel exhausted and angry just after meeting someone? It is all because of the aura surrounding you and the other person. As you continue your life, you will absorb energy throughout the day. To free yourself from negative energies, you must cleanse your aura.
When to Cleanse Aura?
Cleansing aura is a simple home ritual that can be practised independently. Many Reiki Healers also help with aura cleansing. It removes negative energies and vibrations surrounding you. It will enhance and improve virtual productivity. So, when should you cleanse your aura? Every time you feel off and less energetic, you should cleanse your aura.
Are you feeling low and depressed lately? Is your mood irritable, and do you get annoyed quickly? Cleanse your aura. Generally, meditating with crystals for a few minutes daily will lift your mood and keep you happy and active throughout the day.
Aura cleansing using crystals will help improve mental clarity by removing accumulated negative energy. Human beings absorb the energies surrounding them. The aura gets affected whenever you feel something positive or negative. When the aura becomes muddy or darker in colour, it is time to cleanse the aura. You don't have to be an aura reader to know that your aura needs cleansing. If you can close your eyes and focus attention on yourself and the crystal close by, you can feel that aura cleansing is crucial.
Benefits of Aura Cleansing
When negativity and energy blockage is removed from your aura, you will feel rejuvenated and calm. Aura therapy using different types of crystals is also gaining popularity as an alternative medicine to improve energy. The following are the benefits of aura cleansing with crystals:
· Balanced hormones rejuvenate the mind and body
· Glowing skin and gleaming hair
· Improvement in weight loss and overall appearance
· Relieve unidentified and buried stress inside your mind
· Remove anxiety and overcome chronic fatigue
· Relive pain from chronic aches all over the body
. Reduce Hair Loss and Promote Hair Growth naturally
· Improve overall well-being
How to Cleanse Your Aura?
Professionals and reiki experts specialise in cleansing auras using various crystals. When it's Diwali time, you must find ways to clean your home and body. Just because you have a house to run in doesn't mean you can't have time for yourself. Taking care of yourself is essential to take care of your family. So, when you feel run down, follow aura cleansing at home using some of the mood-boosting crystals.
Take A Cleansing Bath with Crystals
Sometimes, you may not have access to a water body to plunge into. In that case, prepare a warm and relaxing bath using cleansing salt, herbs, and oil. You can also add some crystals to your bath water to cleanse your aura. When you enter the bathtub, mindfully let go of negative feelings and reassure yourself that you will feel better as you come out of the water. Even if you don't have a bath, getting connected to water in the shower helps with aura cleansing. You can scrub your body with one of the aura-cleansing crystals, such as selenite, amethyst, moonstone, black tourmaline, blue lace agate, larimar, and lepidolite.
Meditate with Tumbles and Stones
You can benefit significantly from aura cleansing if you sit calmly and meditate. You can rub crystals over your body or hold the crystals or tumble stones in your hand as you meditate. Focus on strengthening your chakras as you move your attention from one body part to the other. The seven-chakra pyramid wand with triangle crystals is explicitly made to remove energy blockage from each chakra. Focus on each chakra, such as root chakra, sacral chakra, solar plexus chakra, heart chakra, throat chakra, third eye chakra, and crown chakra, as you move the wand all over your body.
Which Crystals Use for Cleansing Aura?
Choosing the right crystals makes all the difference regarding your irritability, anxiety, and mood swings. Your aura and your health are closely connected, and the following crystals will benefit both your mind and body:
· Celestine: It brings harmony and peace to your mind. It can create positivity in your life by uplifting your mood and pulling you away from negative thoughts.
· Amethyst: It can transmute negative energy vibrations into positive energy vibrations. It detoxifies your spirit and fills you with positive energy. It is a great help to overcome addiction.
· Moonstone: It brings peace and serenity when you have a scattered mind. It can harmonise discordant energy within and outside your body.
· Angel Aura: It is specifically helpful in cleansing the throat chakra, giving you a clear voice and mind for effective communication. It also strengthens the immune system.
· Agate: Although agate is not as intense as quartz, it can be an excellent cleansing crystal, offering slow and steady results. It promotes stability and strength. It is great for wearing as a bracelet.
· Larimar: Called a stone of joy, this crystal always brings joy and calmness. When you are going through stressful situations in life, spending a few minutes with this crystal and focusing on aura cleansing will uplift your mind right away.
· Selenite: Selenite is a powerful crystal that releases energy blockage. Alternate therapy experts suggest waving this crystal like a magic wand around you for aura cleansing. The chakras are aligned with this crystal. You can also place this crystal under your pillow at night for a peaceful sleep.
· Labradorite: Labradorite is a powerful protector of the aura, it can help you to cleanse your negative aura & bring positive energy. It also helps in Spiritual and Cosmic transformation.
· Kunzite: It draws out energetic toxins in your body and improves clarity and love. This stone of emotion strengthens both your mind and heart.
· Lepidolite can bring euphoria, making you feel good and excited. It will help those who suffer from low self-esteem. Gifting this to your loved ones will strengthen your relationship with them.
· Black Tourmaline is a powerful crystal that drives away evil energy. It is known to have been used by ancient magicians to keep evil at bay. Meditating with black tourmaline will go away negativity from your life.
Before and after using the crystals, you should also cleanse the crystal because they absorb negative energy. Submerge them in salt water and keep them under sunlight for a few hours. It resets crystal energy and removes negative energies trapped by the crystal.
Wear Crystal Energy Bracelets
Depending on your physical and mental nature, find crystal energy bracelets that best suit your aura. You can start wearing these to protect your aura. It will help your body to avoid absorbing negative energies from other people. You can also recharge these crystal bracelets frequently by placing them in the sun so that you can purge the negative energies taken in by the crystals.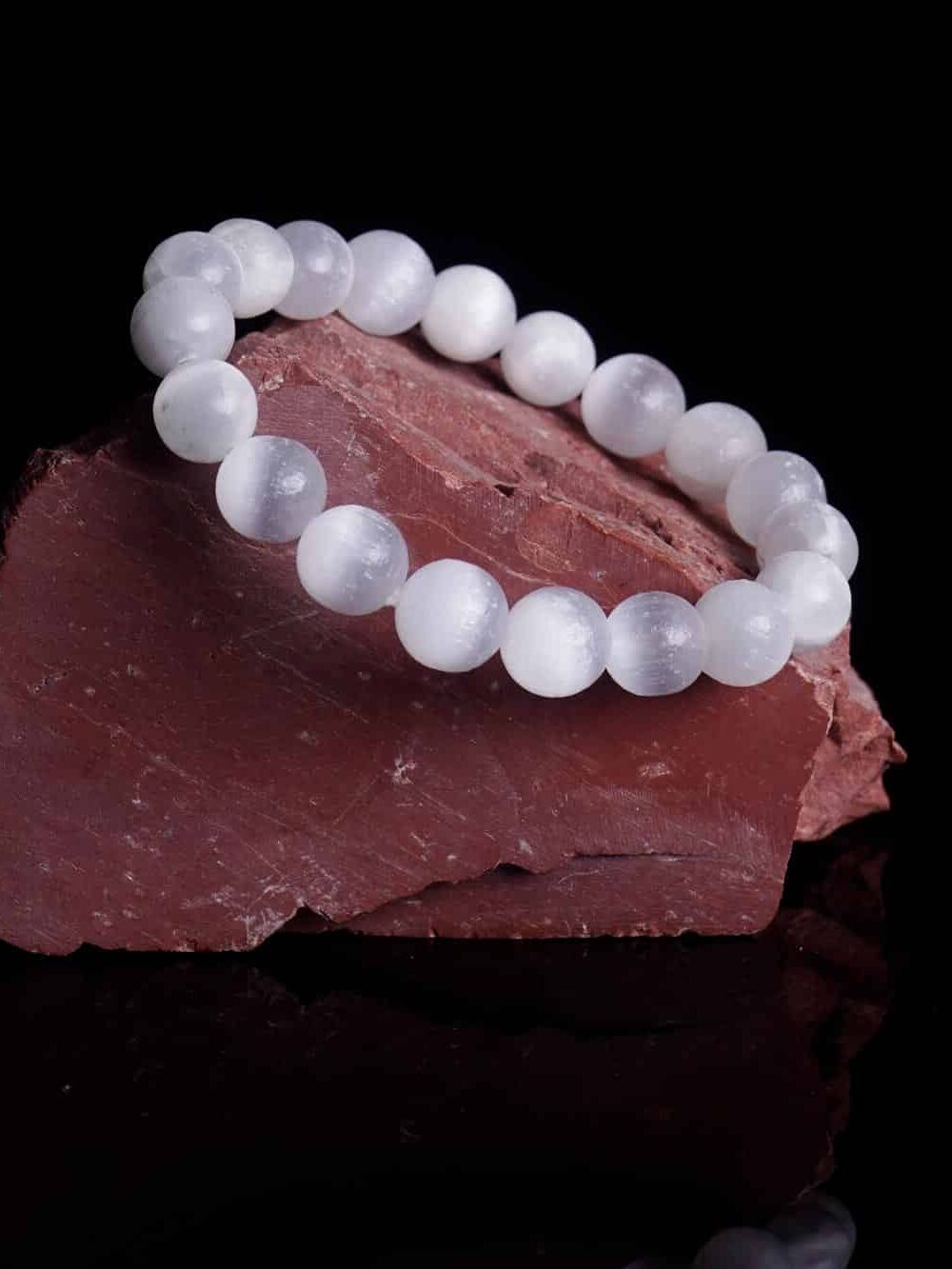 Home Décor Crystal Products
To encourage a positive aura in your home, you can place beautiful crystal décor items. You can place crystal trees at the top of the counters to cleanse the space. Crystal wall hanging, Crystal Angels, crystal Gods idols like crystal Ganesha, crystal Laxmi, and Crystal buddha are also adding mystic beauty to your home while cleansing the place. Decorating your home entrance with crystal products like Raw Stones, Cluster, Tumbled stones, Crystal balls, crystal pyramids, and Crystal Toran will ensure that negative energy is filtered out at the door, irrespective of who enters your home. 
Shubhanjali store is the best place to purchase genuine and authentic crystals for cleansing your aura. You can buy Crystal jewellery, tumble stones, or aura cleansing wands made of pure crystals. Visit our Santa Cruz, Mumbai store for a free consultation on choosing suitable crystals for your aura.