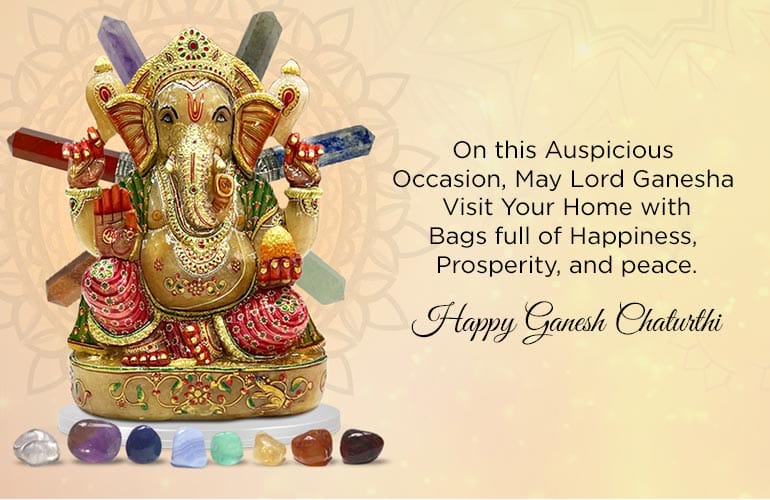 Now that the Ganesh Chaturthi is here, it's time for you to bring Ganapathi Bappa to your home and office. Get him closer to you to receive His blessings not only on the auspicious Ganesh Chaturthi but also for many years. Lord Ganesha has a significant role in Hinduism as he is revered as the deity with an elephant head which removes all obstacles. Ganesh brings good luck, wisdom, and intellect to your home and office.
Following are some of the benefits of having a crystal Ganesh:
Jump over obstacles to the success path
Improve motivation and energy
Increase memory power to help with studies
Drive away bad karma
Attract Goddess Lakshmi and prosperity
Invite business growth
Attract and retain business customers
Enhance overall health
Increase interviews success rate
Ganesha Idols For Home
Your home is your relaxing corner, and you want warmth and peace to engulf you as soon as you enter your home. The place itself should be bustling with positive energy to remove all the negativity of stress during your work hours. The aura in your home should encourage love and peace. Bringing new style Ganesh Murti to your home will add a touch of style while retaining the spiritual connection.
Ganesh Idols For Home Entrance
Placing Ganesh idols at the entrance is great for Vastu. Ganesh idols placed at the entrance should ward off evil eyes and attract prosperity inside. The yellow aventurine Ganesh Ji murti is great to place at the entrance. While you are placing Ganapathi at the entrance, take care to ensure that his back doesn't face the house. The yellow aventurine ensures protection inside the house. Green Jade stone Ganesha and Tiger Eye stone Ganesh are also great for placing at the entrance.
Ganesh Idols For Pooja
Ganesh idol for home can also be placed in Pooja room to attract prosperity and wealth. Rose quartz Ganesha and Laxmi idol set brings emotional and spiritual benefits to your home. Rose quartz empowers heart chakra, reducing stress and alleviating anxiety. To bring in the benefits of yellow aventurine and green aventurine, get the crystal Ganesh Murti in yellow aventurine with green aventurine elephant idols. You can also get the whole set in green aventurine to spread love and peace inside your home.
Ganesh Idols For Home Decor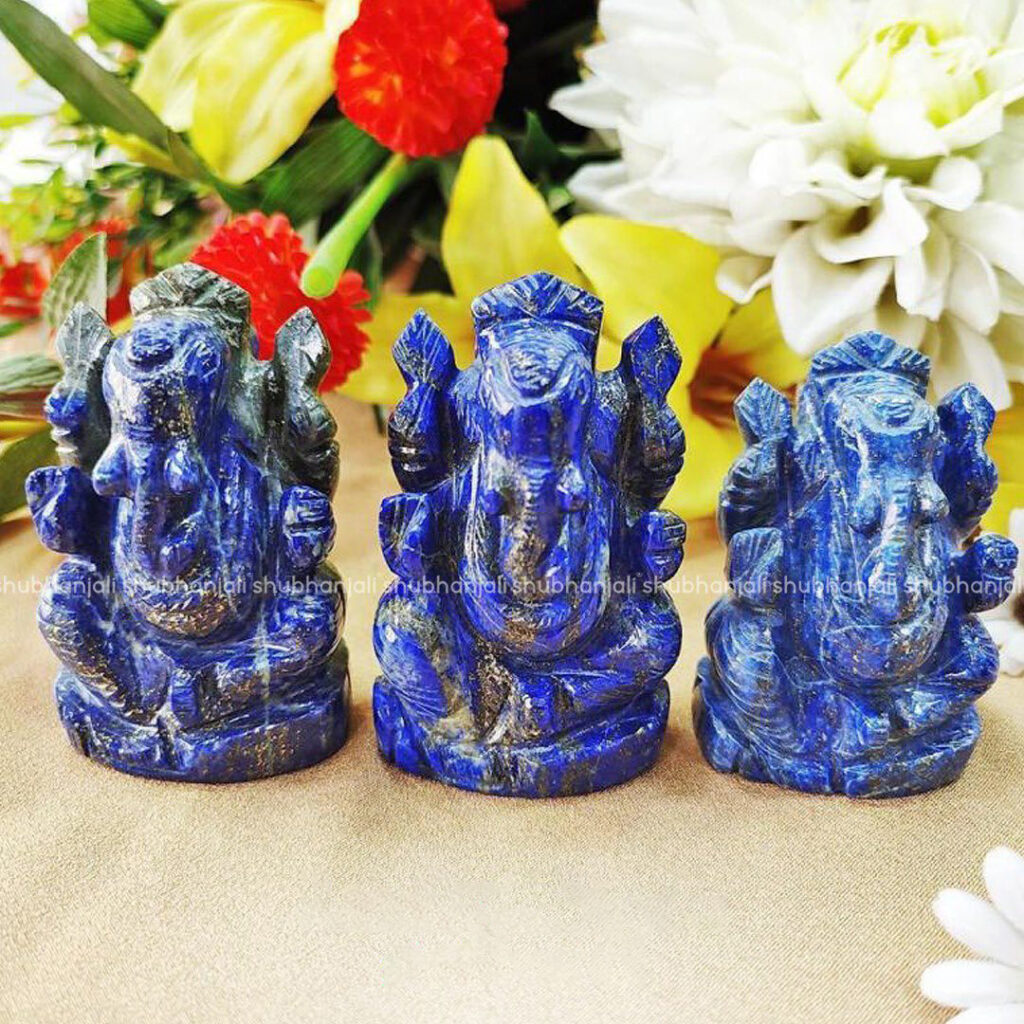 Cute Ganesh idols for home not only serve as decor pieces, but they also actively drive away negative energy. Placing opalite Ganesha and Lapis stone Ganesha in your living room will bring serenity. Amethyst Ganesha can be used to decorate your bedroom, as amethyst can greatly help you in preventing nightmares. Labradorite stone Ganesha also reduces stress and anxiety.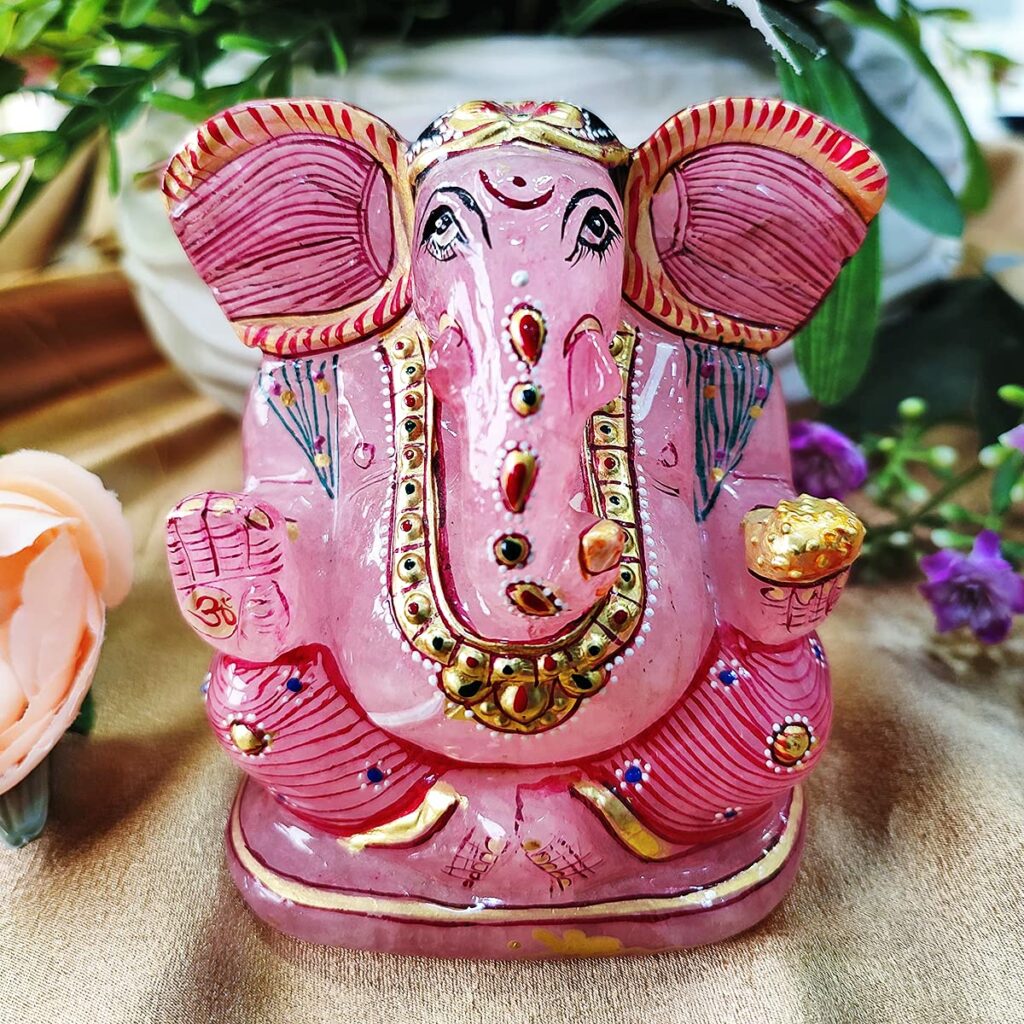 Placing Ganesh Murti in your office, where you finalize business transactions, will ensure that your business will always be successful. You can hang an evil eye Ganesha wall hanging near your safe or cash drawer to ward off evil eyes. Rose quartz Ganesha idols are available in beautifully crafted and decorated styles that promote mental clarity and serve as a beautiful piece of decor. Small 1-inch crystal Ganesh idols can also be placed on your table so that you can meditate in between meetings to increase concentration and spiritual connectivity.
Ganesha For Car
Ganesh Murti in your car will protect you from any harm when you drive on the road day and night. It is a great choice to bring your favourite God with you wherever you go. Solar Ganesha for cars adds unique charm and beauty to your car. It attracts solar energy and cleanses your car by removing negative energy. The ideal place for Ganesha is on top of your car's dashboard, where He can face everyone inside the car. You can also place a small crystal stone Ganesh.
Celebrate Eco Friendly Ganesh Chaturthi
While singing your hearts out with Ganapathi Bappa Moriya, everyone is responsible for ensuring that the celebrations don't ruin the environment. Buying Ganapathi idols that can be destroyed using Visarjan is not good anymore. You can religiously and safely complete the Visarjan pooja with one of the beautiful ecofriendly Ganpati idols made of crystals. After the pooja, you can keep the eco friendly Ganesha idol at home or office and continue praying to it. Or, you can keep away the special crystal Ganesha in your cash wardrobe and bring him for pooja next year. The crystal Ganesh Murti doesn't spoil the environment as it doesn't have any toxic chemicals.
During the auspicious day of Ganesh Chaturthi, bring the best eco friendly Ganpati to your home. You can also offer Crystal Ganesh Idols as crystal gift when you share sweets and presents with your loved ones. There is no need to do visarjan of crystal Ganesh. You can simply complete the visarjan pooja at home and keep the crystal idol back inside the home temple or any other place of your choice. The crystal Ganesh Ji murti not only beautifies the place but also brings in abundant positive energy. Every home and office should have Ganesha idols to drive away the evil force and bring positive vibrations.
Eco-Friendly Decoration With Crystal
To decorate your home for the auspicious Ganesh Chaturthi, there is no need to purchase paper flowers or plastic flowers. You can make the celebration completely eco-friendly with beautiful crystal eco-friendly décor items like the crystal tree. You can hang crystal wind chimes and place crystal clusters at the entrance to welcome Lord Ganesh into your home. Crystal tower is also a beautiful décor piece to decorate your pooja room. You can concentrate the healing and spiritual powers of crystals by decorating the pooja corner with neatly placed raw stones. You can later use these raw stones for meditation.
Shubhanjali Store is the best place to buy different types of crystal Ganesh idols in different sizes. Our eco friendly Ganpati doesn't pollute water resources like PoP, and He will come home with you after Visarjan to keep blessing you from your Pooja room, office room, or living room. You can buy from our online store for speedy delivery or visit our store at Santa Cruz, Mumbai, to consult with crystal experts before taking your own Ganesh idols back to your home.