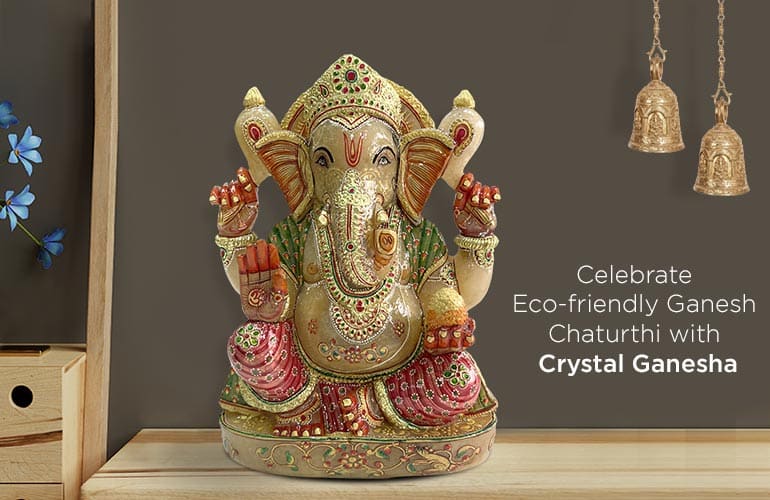 Our life revolves around Vaastu. It is a study that guides us with the infinite powers the universe has to give us and makes our life precious with its essential elements. According to Vaastu Shashtra, the primary concept is that you can entice more positivity in your home if it is decluttered and every corner is tidy. A clean home welcomes peace of mind and harmony. Possibly, that is one of the reasons why we prefer cleaning every corner of our house while the festive season is around. Every home might be prepping and decorating a hub to bring home new style Ganesh murti this Ganesh Chaturthi.
Everyone will bring home Ganesh Murti on the fourth day of Bhadrapad month as per the Hindu calendar. Everyone will welcome Ganpati Bappa home on 31st August 2022. While many POP Ganesha Idols are already handcrafted, we must also consider nature which gets polluted during Ganpati Visarjan. Many homes are now practicing eco-friendly Ganesha festivals to avoid noise, air, and water pollution. Some Ganpati murtis are prepared with clay, while some are made using leaves and other natural materials which would not harm nature. Every Ganesh murti holds its significance depending on the material used for handcrafting. You can also opt for crystal Ganesha murti, which will stay with you even after Ganpati Visarjan. Bring home Bappa according to the auspicious time and perform the Visarjan activities on Anant Chaturthi. Later, you can place back the Ganpati Murti as per your desire. Doesn't this sound a little more fascinating and celebrate the Ganesh festival differently?
Here are some Crystal Ganesh Murtis you could opt for from Shubhanjali store:
Amethyst Stone Ganesha
Worshiping any God is the best stress reliever. But, Ganpati Bappa holds different energy within himself altogether. Simply standing in front of him while doing your prayers gives you eternal peace and all the answers you've been searching for. While he is about to arrive at every home, it's essential to choose a perfect Ganesh Murti for an occasion like Ganesh Chaturthi 2022. How about opting for a crystal Ganesh idol for home this year? You can celebrate the festival the way you want without harming the ecosystem. By worshiping Amethyst Stone Ganesh Murti, build your inner strength and transform all negative energies into positive ones. If you do not celebrate Ganesh Chaturthi as a festival and are willing to bring a Ganpati Murti, 31st August 2022 is the perfect day. Place it on your desk or at home and perform your first Pooja on this day to experience tranquility everyday.
Lapis Stone Ganesha
Eco-friendly Ganesha is trending to save the ecosystem and make it look all fancy. While people opt to buy Ganesh murti handcrafted from natural items, you can choose crystal Ganesh Murti which you can keep home even after Ganpati Visarjan. Bring home a double bonanza with Lapis Stone Ganesha because it enhances your spiritual abilities by bringing good fortune. This Ganesh Chaturthi, if you are planning to gift something to your friend or client, our Lapis stone Ganesh murti would be a religious yet fantastic gift. Since Lapis healing stone can help you discover your inner Self, it will activate all your psychic abilities.
Green Jade Ganesha
Heal yourself emotionally, mentally, and physically with the arrival of Ganpati Bappa because we all know that his presence releases vibrations that soothe us. Instead of a POP Ganesh murti, you can bring home our Green Jade Ganesha, this Ganesh Chaturthi. A healing crystal Ganpati gives you a double bonus with its healing properties. Green jade crystal stone is believed to stabilize the personality by stimulating multiple ideas and making tasks less complicated for you. This healing stone also brings in good fortune by providing you with growth and success in business.
Green Aventurine Ganesh Murti
Let's altogether say it loud – Ganpati Bappa, Morya! Mangal Murti, Morya! Happiness knows no bounds when we have to welcome Bappa. Be it a pandal, or home mandap, we all decorate it to the best. Everyone's energy is at its best. Possibly, because he is favourite for all. While bringing home Ganpati murti brings happiness, wealth and peace, it's necessary to keep every aspect of the murti in mind. The Bappas' trunk has to be on the right as he's known as the Siddhivinayak. Every Ganesh Murti needs to be designed with a mouse and modak for Bappa loves it a lot. Opting for crystal Ganesha murti would be apt if you want to celebrate the eco-friendly Ganesh festival this year. Our Green Aventurine Ganesh Murti would be luckiest, for the stone releases vibration that provides strength, courage, happiness and confidence. So, this Ganesh murti can spread double joy when you bring Bappa home.
The God who's pot-bellied and possesses long ears and a trunk like an elephant are the one who brings good fortune and wipes off all the negativity from our life. It's one of the reasons why we call Bappa 'Dukhharta'. If you plan to opt for a new style Ganesh Murti, our Solar Ganesha will amp up the look of your temple. While Ganesh Chaturthi is the most auspicious occasion to bring home Ganpati murti, our solar Ganesha idol can add a spiritual element to your car dashboard. It is finely designed with golden color while the material used is plastic for enabling solar power, making it lightweight as well.
Why wait when it's about Ganpati Bappa? Please browse through our collection or hop in our store to get home beautiful Ganpati murti.