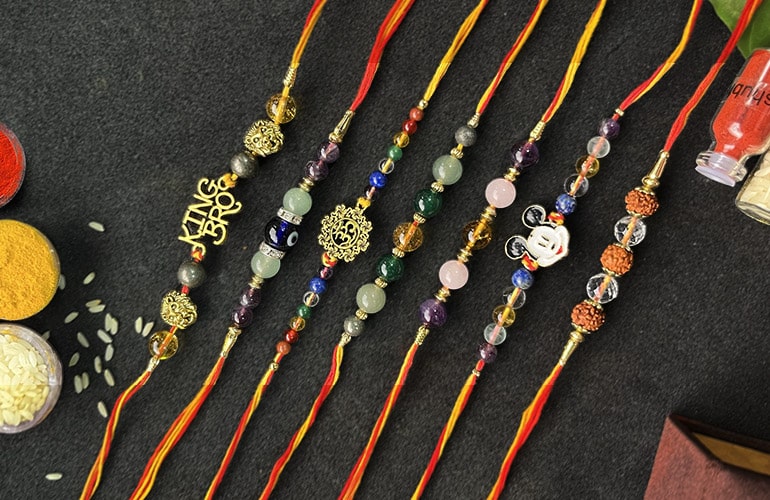 Make this Raksha Bandhan extra special with the mystical touch of crystal.
What is Raksha Bandhan?
Raksha Bandhan is an Indian festival celebrated in the month of August that symbolises the bond shared by siblings and stands as an epitome of brotherhood. The word Raksha Bandhan means "Bond of Protection". During this occasion a sister ties a thread to the brother's wrist while wishing the best for him and in turn her brother pledges to protect her till eternity. He also gives her a gift or a token of his love as shagun.
Who celebrates (Rakhi) Raksha Bandhan?
Rakhi stands as a symbol that binds siblings together. What is the best part about having a sibling? Everything! Right from your first fight, movie nights, endless conversation, sleepless nights to making memories that will last forever. Siblings are your best friends. Today, Raksha Bandhan goes beyond blood ties. A rakhi can be tied to anyone who you share a special bond with – sister, brother, friend, bhabhi, brother-in-law etc. Everyone wants to wear something trendy that makes a statement, keeping this in mind there an infinite number of rakhi designs available in the market. We have an array of handcrafted crystal rakhis and crystal bracelets from which you can pick and choose.
Why choose a Crystal Rakhi?
A Crystal Rakhi is created using different crystals which have a deeper meaning and convey the intent like – prosperity which you wish to gift the one you tie the rakhi too for example; protection, prosperity etc. Each crystal possesses distinct healing properties and grants numerous benefits to the wearer. Crystal Rakhis have become very popular recently because of their symbolic value as today everyone goes the extra mile to send rakhis encrusted with these fabled stones to their loved ones. Looking for Crystal Rakhis? Then we got you covered! We have a wide range of artisanal crystal rakhis for Bhabhi/ Sister in law and crystal bracelets rakhi available to shop and gift. You name it and we have it. Belowwe have curated a list of our most popular rakhis, maybe this can guide you to pick if you're a first time buyer.
Evil Eye Rakhi :
Evil Eye has become a raging trend today. Evil Eye Rakhi is a powerful amulet of protection. It keeps the negativity and evil spirits at bay. It brings good luck and good fortune. It creates an aura of positivity. An apt choice to gift an amulet for protection.
Money Magnet Crystal Rakhi :
A rakhi create using wealth crystals like Pyrite – wealth, Green Jade – good luck, Green Aventurine – new opportunities, Citrine – prosperity. Each of these stones have unique properties to lure in wealth. This combination of crystals will bring a flow of money and wealth into the wearer's life. This rakhi will acts as a magnet to attract wealth. You can go for this rakhi if you wish abundance to your loved ones.
Success Crystal Rakhi :
Everyone wishes success for their loved ones. The best way to covey those emotions is by giving them a Success Rakhi to amplify that intent. This rakhi is created using crystals like Pyrite and Citrine. Pyrite is an excellent abundance stone that invigorates wealth, prosperity and success. It helps cultivate a wealth mindset. Citrine helps in manifestation of new opportunities and prosperity.
Evil Eye Health and Luck Rakhi :
A rakhi that will bring the wearer protection, good health and good luck. It is handcrafted using an Evil Eye, Amethyst and Green Aventurine. Evil Eye is powerful protection symbol worn as a amulet. It brings in good vibes, good luck and good fortune. Amethyst enhances the immune system and promotes digestive health. Green Aventurine is known as the "Stone of Opportunities". It promotes prosperity and invites new opportunities.
Good Luck Crystal Rakhi :
An apt rakhi choice if you wish to give good luck to your loved ones for a new business, an exam, a job interview etc. This Good Luck rakhi is created using Tiger Eye, Green Aventurine, Sun Stone and Green Jade. This robust combination of crystals will bring the wearer an overflow of good luck and positive vibes.
Seven Chakra Rakhi :
A Seven Chakra Rakhi is created using seven stones connected to the different body chakras – Root Chakra, Sacral Chakra, Solar Plexus Chakra, Heart Chakra, Throat Chakra, Third Eye Chakra and Crown Chakra. It depicts the beautiful colours of a rainbow. These crystals provide healing energy to the respective chakras and help to keep them balanced. These crystals promote health, wealth, prosperity, and mental harmony in life. It can also give confidence to a person in terms of finance, wellness, and psychic level.
According to the Hindu calendar, Raksha Bandhan celebrated on Sawan Poornima & this year Rakhi will be celebrated on 11thAugust 2022. Let your brother celebrate Raksha Bandhan on 11thAugust 2022 with your beautiful unique rakhis. Poornima will start 10:39:55 on 11thAugust 2022 & it will last till 7:06:53 am on 12th August 2022. According to the Hindu calendar, Rakhi can be celebrated on both two dates till Poornima.
Shop for all these exquisite crystals rakhis and crystal bracelets exclusively available at Shubhjanjali Store. This Raksha Bandhan 2022 Send Rakhi to Brother online and your loved ones as a symbol of your love. We can customize crystals rakhi gift hampers to cater to your needs. We are a one stop store for all your crystal needs. You can visit our flagship store located in Santacruz, Mumbai or shop online on our website.
Trending Products