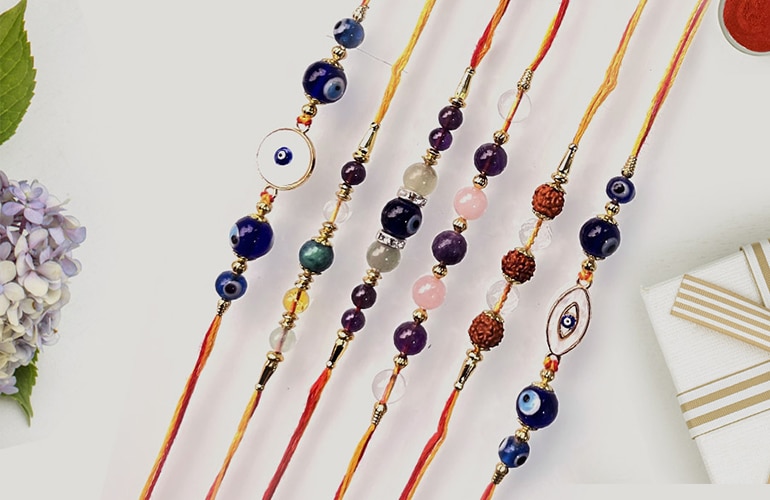 Traditionally, we see Raksha Bandhan as a festival for brothers and sisters. However, it is a festival that also helps you strengthen your bond with your sister-in-law. She can be your best friend, and tying a rakhi is also a sign that you consider her to be an important member of the family. If your brother is married and you have never thought of tying a rakhi to your sister-in-law, change the pattern this time. Get a Crystal Bracelet Rakhi for your Bhaiya and Bhabhi to adorn their wrist this Raksha Bandhan. With this, you should remember that emotion is what matters the most. You can buy the best available Rakhi, but you cannot buy an emotion. So, do your part to make the bond special!
Latest Crystal Rakhi designs for your brother
This festival is all about strengthening one's relationship with their siblings, and there have been many mythological stories that revolve around this custom. There are many stories that talk about situations where the brothers have stepped up to fulfill their duty of protecting their sisters in challenging situations. The tradition was followed in ancient times as well when queens used to send a Rakhi to brothers in their neighborhood.
Crystal Rakhi for your Bhabhi
While tying a Rakhi on your brother's wrist is customary, the trend of tying a rakhi on your Bhabhi's wrist is something you should consider with all seriousness. Raksha Bandhan is a beautiful opportunity for you to express your love and respect for your Bhabhi. When you tie a rakhi on your Bhabhi's wrist, it is called Lumba Rakhi, and while the tradition is usually followed by Rajasthani and Marwadi women, women in other states have embraced the practice and are happy to tie the sacred thread on their wrist, seeking her well-being too.
Matching Bhaiya Bhabhi Crystal Rakhis
Now, spending hours looking for the perfect Rakhi for your brother might be a pleasant challenge. You should go through the same routine to look for the perfect Rakhi for your sister-in-law as well. Or, you can save yourself the trouble and look for matching Bhaiya Bhabhi Rakhi for the occasion. This way, you will give them yet another reason to have something in common. While buying Crystal Rakhi, you can check out the matching Bhaiya Bhabhi Rakhis we have at Shubhanjali Store.
Crystal Rakhis are trending because it is claimed that crystals promote good health and it helps the wearer in getting rid of negative energy. In simple words, wearing crystals for health is a good idea, and if you can make your Bhaiya and Bhabhi wear it for their good, it is an added bonus, isn't it?
Tie a Unique Rakhi on Your Brother's Hand for a Celebration
While every sister is searching for a unique rakhi, brothers also look forward to presenting an ideal rakhi gift to their sister. It's not just a gift; it's an emotion that creates memories. So, if you are confused, browse our website, and we are sure you will find the perfect gift for your sister.
Negative forces and vibrations around us surround us all. But, we tend to ignore them, resulting in a piling of negative emotions. We try and find calmness over a vacation or by meditating. Of course, they do help. However, to stay connected to your inner soul, healing crystals are a great help. They look not only attractive but also possess excellent spiritual protection.
Do you want your brother to build self-confidence? You can choose our Tiger Eye Beads Rakhi, which would be an exclusive rakhi for your brother, which would not only protect him but also help him delete all the toxic feelings. Your schedule looks busy while prepping up for the celebrations. You can buy rakhi online from our browser, which will be delivered to the desired address.
So, look for natural crystal products while buying a Rakhi, and you'll be happy to make the right choice. Even if you're not with them physically, you can get a matching Bhaiya Bhabhi Rakhi delivered to their place, anywhere in India.
Raksha Bandhan will be celebrated with happiness and joy this year on August 11, and we hope you enjoy this auspicious day with happiness all around you.
Trending Products