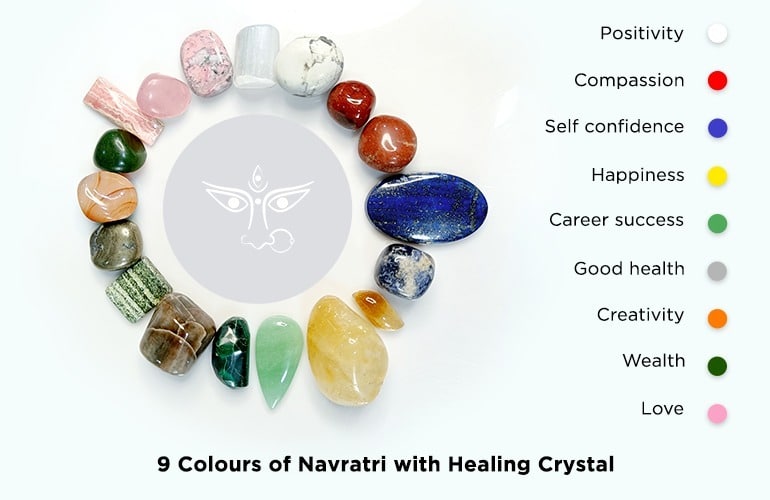 While the festive season began a while ago, we surely cannot hold back the joy of welcoming Navratri 2022 with all our hearts. Everybody around us is prepping up and decorating their home to welcome Goddess Durga. While MaaDurga possesses nine divine forms of her, each day of this festival has its significance. However, worshipping MaaDurga with devotion daily is a direct way to attain spiritual bliss. Everyone performs 'pooja' and 'aarti' by decking up in clothes of different colors each day. Navratri is also a colorful festival as each day signifies a different color, amplifying beauty and brightening our life. Every festival can provide spiritual benefits, but we can level it up by using various healing crystals to absorb the positive vibes from various planets during Navratri.
Let's together dive into the details of crystal stones that can be used during Navratri!
1st Day of Navratri
Navratri Color: White
White Color Crystals : Selenite, Clear Quartz, Howlite
As white symbolizes peace and serenity, crystal stones like selenite, clear quartz or Howlite while meditating can boost the power of attaining peace. While Selenite and Howlite crystal is associated with the crown chakra, they restore and amplify the energies with their combined power. You can Clear Quartz crystals by keeping them out of the window to get the best vibrations. The energies of Clear Quartz will harness more clarity and serenity around you.
2nd Day of Navratri
Navratri Color: Red
Red Color Crystals: Red Jasper, Red Aventurine
Undoubtedly, each day of Navratri brings joyous moments and love and compassion for everyone in the family. However, you can activate your heart and root chakras with Red Aventurine and Red Jasper Crystal stones. Place these crystals in the corner of your home to help you feel more grounded. We also have many decorative crystal pieces to amp up the corner of your dining hall by providing you with inner strength. These healing crystals during Navratri will help nurture your soul by spreading lots of love.
3rd day of Navratri
Navratri Color: Royal Blue
Blue Color Crystals: Lapis Lazuli Crystal, Sodalite crystal
Activate your third eye chakra and throat chakra by meditating with Lapis Lazuli and Sodalite crystal stones on the third day of Navratri. While LapizLuli enhances your self-expression abilities, sodalite helps communicate your feelings without hesitation. Using these healing crystals on day 3 will elevate your confidence by alleviating negative thoughts from your mind and destroying all the evil from the outside and within.
4th Day of Navratri
Navratri Color: Yellow
Yellow Color Crytals: Citrine, Calchite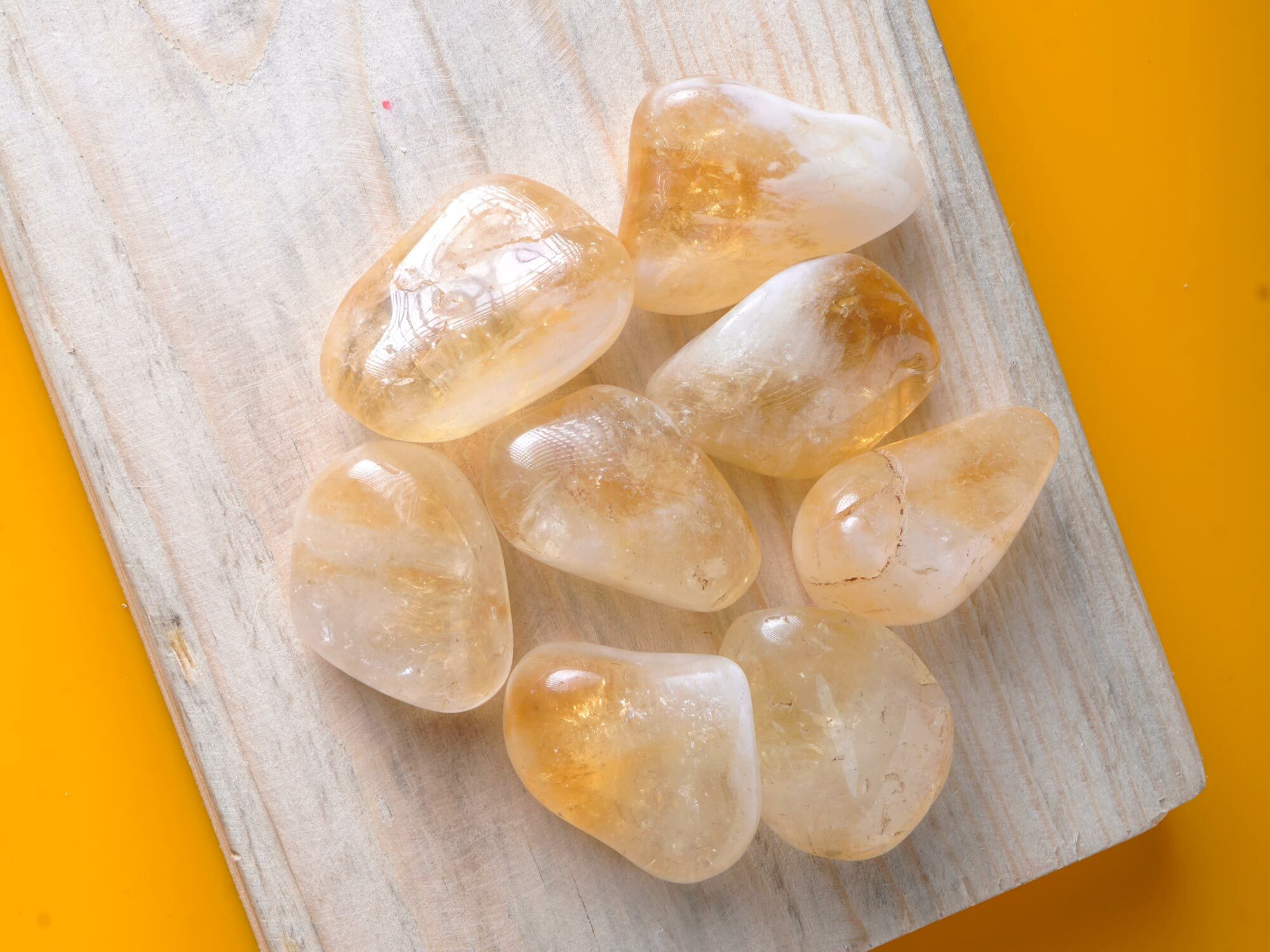 You can also balance your solar plexus and third eye chakra by using Yellow Calcite and Citrine crystal stones on this day. Boost your stamina by wearing these beautiful navratri crystals during these nine days.
5th day of Navratri
Navratri Color: Green
Green Color Crystals: Green Aventurine, Green jade, Malachite
Crystal stones like Green Aventurine, Jade and Malachite will help balance the heart chakra's vibrational level during the fifth day of Navratri. Praying or meditating with these healing crystals promotes growth by bringing opportunities and good luck.
6th Day of Navratri
Navratri Color: Grey
Grey Color Crystals : Zebra Jasper, Cats Eye, Pyrite
Worshipping with Zebra Jasper, Cat Eye and Pyrite Crystal stones will help us clear the blockages in our sacral chakra. These crystals not only protect us from negative energies but also ensures to create a shield for us to avoid falling into the darkness. And that's how we create immunizing and energizing vibrations around us.
7th day of Navratri
Navratri Color: Orange
Orange Color Crystals: Sunstone, Orange Selenite, Carnelian
Kill your inner demons by using various orange color crystal stones. Melt away all negative forces by wearing carnelian, orange selenite or sunstone healing crystals. Like Sunstone crystal is bright and beautiful, it brightens your day by adorning these crystals daily.
8th Day of Navratri
Navratri Color: Peacock Green
Peacock Green Crystals: Green Jade, Fluorite, Malachite
How excited is your energy during the 8th day of Navratri to play Garba? Attain freedom from all the sufferings in life and cleanse your aura using crystal stones. The aura of fluorite crystal stone neutralizes your stress. So bringing beautiful healing crystals like green jade, fluorite and malachite during navratri at home will increase your power of concentration and spread positivity.
9th Day of Navratri
Navratri Color: Pink
Pink Color Crystals: Rose quartz, Rhodochrosite, Rhodonite
The last day is always meant for attaining perfection. While we struggle to be perfect in everything, meditating with all devotion using Rose quartz & Rhodonite crystal can help us take our baby steps towards perfection. Similarly, add spice to your relationship with rose quartz crystal and energize your soul with rhodochrosite crystal stone.
Be it any day round the year; if you are a strong believer of Crystal Stones, all our healing crystals can be a life changer for you. Please browse through our website to check out all types of Crystal Products, Crystal Jewelry and Home decor crystals for your home and Crystal for Gifting purpose.