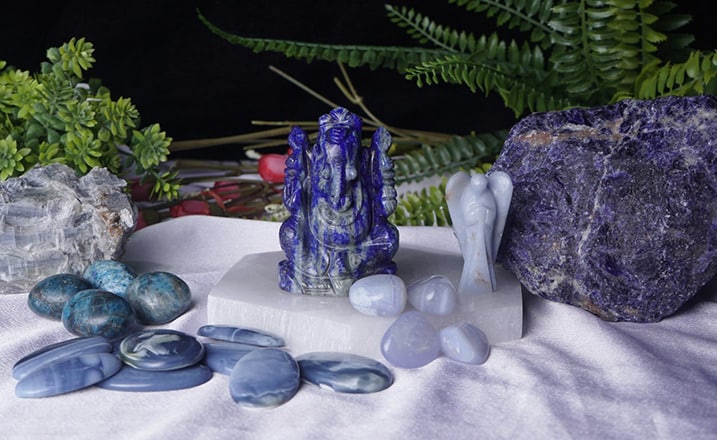 Blue crystals are the natural birthstones for those born between February 19th and March 19th. Blue crystals help you to feel confident and maintain your balance. Wearing blue crystals will bring you peace and serenity if you are experiencing tumultuous emotions. They are beneficial for your health and relationships. They can also help you connect spiritually and keep you grounded while you try to soar high.
Health Benefits & Healing Properties Of Blue Crystals
Generally, blue crystals are associated with the throat chakra. It is one of the most energetic chakras in the body and is responsible for maintaining your energy throughout the day. If there is a blockage, the blue crystals remove the blockage in your throat chakra and allow the energy to flow freely through your body. If there is no blockage, the blue crystals cleanse and optimise the throat chakra.
Physical Health Benefits Blue Crystals
Blue crystals greatly help treat various health conditions related to the throat and neck. Wearing ocean-coloured crystals can help you with the following problems:
Stiffness in shoulder and neck muscles
Colds
Thyroid problems
Tension headaches
Hearing problems
High blood pressure
Laryngitis
Sore throat
Eye strain
Mental Health Benefits
These sky-coloured crystals bring tranquillity and peace to your life and relationships. Blue crystals in varying shades can help you with your mental health in the following ways:
Overcome insecurity
Promote a positive outlook
Improve confidence
Enhance clarity
Help with recovery from different types of mental illnesses
Spiritual Health Benefits
Overall, well-being is not just about physical and mental health. It would be best if you also had your spiritual power to guide you while making important decisions. Having blue crystals around you will improve your spiritual connection.
When you feel distressed, wearing blue crystals or adding blue stones to your ambience can significantly help in uplifting your mood. Dark blue crystals have many spiritual healing properties, which forge sensitivity, thoughtfulness, and tenderness to make you more compassionate. They provide spiritual cleaning and overcome your insecurity. It helps in establishing trust and honesty in relationships. If you have been betrayed, the blue crystals help you overcome your anguish and prepare you for a balanced spiritual journey.
Best Blue Crystals You Need in Your Life
In Feng Shui, blue crystals are considered to have water energy. They are to be used in the Northern area of your home, which is also the area for career and life path. Blue crystals in this part of your home or office will remove energy blockage and let positive energy flow freely.
Lapis Lazuli ( लाजवर्द )
The Stone of Truth, this crystal encourages self-awareness and honesty. It promotes creativity and fosters innovation. It is also a great stone to improve friendships.
Immune system booster
Lowers blood pressure
Soothes inflammation
Effective for thyroid problems
Blue Apatite Crystal
The Stone for Personal Power awakens your spirituality. It removes negativity around you and opens you up to communicate your ideas and opinions.
Improves bone development
Enhances metabolism
Promotes heart health
Sodalite Crystal
Sodalite balances logical and rational thinking with artistic abilities. It helps you to have better communication skills, empowering your energy centres.
Sodalite crystal helps you in the following ways:
Improves mental clarity
Lowers blood pressure
Helps with digestive disorders
Angelite Crystal
It is known as Angel stone and is closely related to another gemstone, Celestite. This stone radiates serene energy and encourages conscious awareness. It helps you make spiritual connections with your guardian angels.
Angelite crystal can make you feel better in the following ways:
Balances thyroid gland
Helps with throat infections
Improves heart pumping
Helps with weight loss
Blue Calcite Crystal
It has emotional and spiritual powers to relax you and promote inner balance. It greatly helps with emotional healing and can be used for meditation.
Blue calcite crystal is a stone for emotional intelligence and has more metaphysical properties:
Helps with healing
Aids in psychic communication
Boost institutive abilities
Blue Opal Crystal
This stone is ideal for those looking for some help to stay courageous. It enforces a daring attitude, helping you to overcome your fears and become brave in your decisions. Known as Peruvian Opal, it is one of the rare Opal gemstones.
Blue Opal crystal is equally suitable for both your physical and mental health in the following ways:
Improves mental clarity
Strengthens nervous system
Improves immunity
Blue Kyanite Crystal
This crystal is excellent for activating all body chakras and eliminating blockage. It promotes free energy flow for physical, emotional, and mental well-being. It also awakens your spirituality.
Blue Kyanite crystal is a powerful crystal that opens up your throat chakra and can help in the following ways:
Strengthens voice
Heals throat
Alleviates problems with the larynx
Blue Lace Agate Crystal
Blue Lace Agate is a rare gemstone mined only in Ysterputs, Namibia. This crystal is known to bring peace and helps you to communicate your thoughts. It promotes communication and spiritual connection.
Blue Lace Agate crystal has the following health benefits:
It supports and strengthens the skeletal system.
Ease the pain of arthritis and bone deformity
Healing fractures
Clearing out throat infections
It would be best if you used genuine crystals to get blue crystals' health benefits and healing properties. You can find beautiful jewellery made out of blue crystals also. Many décor items are also available made of sodalite and Lapis lazuli. Crystal Ganesh, Crystal Shivling, made out of Lapis lazuli, is a great item to meditate with.
Shubhanjali Store has a great collection of blue crystal jewellery, home décor prodcuts made of genuine crystals and stones. You can order online or visit our Santa Cruz, Mumbai store for a personalized shopping experience.