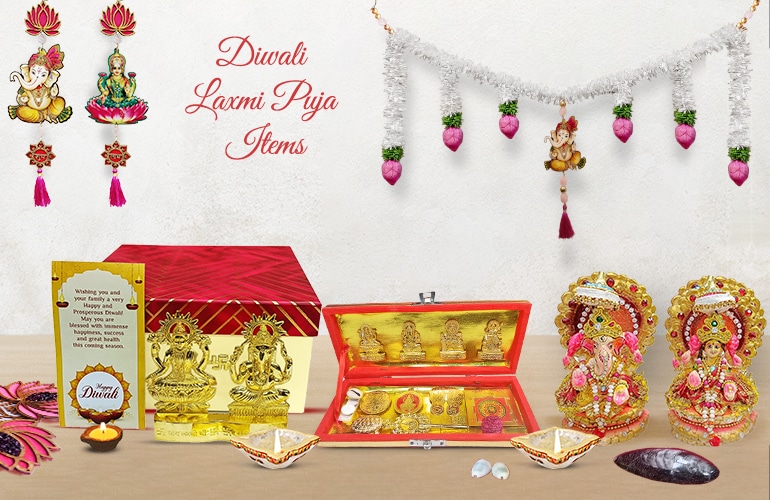 How to do Diwali Laxmi Puja at Home and office
The festival of lights Diwali is a much-awaited festival in India. Deepawali marks the victory of good over evil. It is believed that on Diwali, Lord Rama returned from a 14-year-long exile with his wife Sita and younger brother Laxman. The residents of his kingdom Ayodhya were so pleased with his return that they lit diyas to brighten up the atmosphere. It is said that the night was a no-moon night and it was Ayodhya's lighted earthen lamps and diyas which illuminated the sky.
Lakshmi Puja Date of 2022
On the auspicious occasion of Diwali, Laxmi Puja is performed to welcome abundance and prosperity. Laxmi is revered as the Goddess of Diwali. This year this puja will be done on 24th October 2022. The Lakshmi puja is performed in the evening to invite Laxmi. During this Diwali Pooja people also pray for peace and good health.
Guide to performing Laxmi Puja at home or in the office:
Purify your home and office by lighting some Bhimseni Kapoor, Sage or Palo Santo sticks. It will cleanse your home and create a positive aura in your home and office.
Set up a puja platform on the clean table or desk, place a clean cotton cloth and place holy idols of Lord Ganesh, Goddess Lakshmi and Lord Kuber.
In addition to these god idols, you should also include Laxmi Charan Paduka, Laxmi Yantra, Kuber Stone, Kuber Bhandari, Gomati Chakra and Kaudi in your Diwali puja to get the blessing from Laxmi and Kuber for brings financial prosperity in your life. Praying to Goddess Laxmi and Lord Kuber blesses the worshiper prosperity by drawing new avenues and sources of income.
Light a Crystal Diya or any type of Diya's and perform your rituals. Crystal Diya's will not only add light but also bestow the aura with the healing energy of the crystals
Finally recite the Diwali puja ritual of Aarti, mantra and pray
Shubhanjali Store has curated products especially for performing Diwali Puja. Celebrate the festival of lights and enlighten your lives with the magical energy of crystals.
Diwali Laxmi Puja Items for Diwali:
1.LAXMI CHARAN PADUKA
Laxmi Charan Paduka is a lucky Charm, mentioned in Vedas and Puranas. It is believed that keeping Lakshmi Charan Paduka in your Puja Room, Office, or Home brings wealth and prosperity. As it symbolises the footprints of Laxmi, Goddess of Wealth.
2. KUBER STONE
Lord Kuber is worshipped as a God who protects and conserves wealth in a family. It is believed that worshipping Kuber idols regularly along with Kuber yantra ensures fast results and blesses the natives with prosperity, wealth and good luck. Kuber stone is a fossil that helps in solving all financial problems. You can keep this stone in your temple, home and wallet or wealth box. It also promotes a sense of pride and success in business. A powerful stone that will attract wealth and Prosperity. It could be kept in your home's worship space, purse or cash box.
3. KUBER BHANDARI YANTRA AND IDOL
Kuber is the Lord of Wealth. It also helps in financial stability and a lavish lifestyle. This energised Kuber Yantra is considered as the banker of heaven. It also, helps in financial stability and a lavish lifestyle. The Kuber Bhandari Yantra aids in overcoming all financial issues and bestows on the user an abundance of money, fame, success, good fortune, and peace of mind for the entire family.
5. GOMATI CHAKRA
Gomati Chakra resembles the Sudarshan Chakra. Gomati Chakra is sacred pieces that attract wealth and prosperity. It offers blessings from Lord Shiva. It brings stability in marriage and also lures in promotion opportunities and business growth.
6. LAXMI KAUDI
Laxmi Kaudi represents the Goddess of Wealth – Lakshmi. ​​It brings forth wealth and prosperity. Kaudi helps in accumulating savings and exercises control over unnecessary expenditures. It is also useful for people who are not able to save money.
7. CRYSTAL DIYA
Diyas symbolise goodness and purity, and lighting them denotes dispelling darkness and going into light. Crystal Diyas not only add light but also emit healing energy that enhances your puja intentions. These crystal diyas are available in various stones like Amethyst, Clear Quartz, Rose Quartz, Green Aventurine, Black Agate, Citrine etc. Choose a crystal diya to cater for your specific intent.
8. GANESH IDOL
Praying to Lord Ganesha plays a vital role in the holy Diwali Puja. There is a custom to worship Goddess Lakshmi and Lord Ganesha together on this festival of lights. Lakshmi is the goddess of wealth, fortune, luxury and prosperity and Ganesha is the lord of wisdom, and he is revered as the remover of obstacles. So no celebration is deemed complete without invoking Lord Ganesha whom Goddess Lakshmi is worshipped. Diwali is no exception either. Hence, 'Gajanan' is worshipped along with Maa Lakshmi on this festival to eliminate all obstacles.
9. LAKSHMI IDOL
Diwali marks the death of many demons like Narkasur by Lord Krishna, the arrival of lord Rama to Ayodhya after killing Ravana and Lord Vamana defeating the arrogant Bali. As the win over good over evil is said to bring prosperity, Lakshmi is worshipped. Worshipping Lakshmiji who is known as the Goddess of Wealth is the key essence of performing the sacred Diwali Puja. It is believed that on Diwali night, Goddess Lakshmi visits each house to bless her devotees with great wealth and luxuries. Those worshipping Lakshmi for wealth would first have to worship Ganesha to seek her blessings.
10. DIWALI TORAN
Decorating houses with Torans during Diwali invites harmony, wealth, prosperity, auspiciousness, luck, positivity and happiness into your home. Additionally, when Crystal Torans are used they not only beautify spaces but also fill them with the mystical healing energy of the crystals used in making them.
11. DIWALI DECOR ITEMS
You can feel the festive spirits and the true essence of Diwali when your house or office is decorated. Diwali is all about decor, puja and sweets. Accentuate the vibe of your space by lighting Crystal Diyas, hanging a lotus/ evil eye piece, and placing crystal torans and rangoli made with crystal chips. When you beautify your home or office with Decor items made with crystals, it just amplifies the vibe and energy of Diwali.