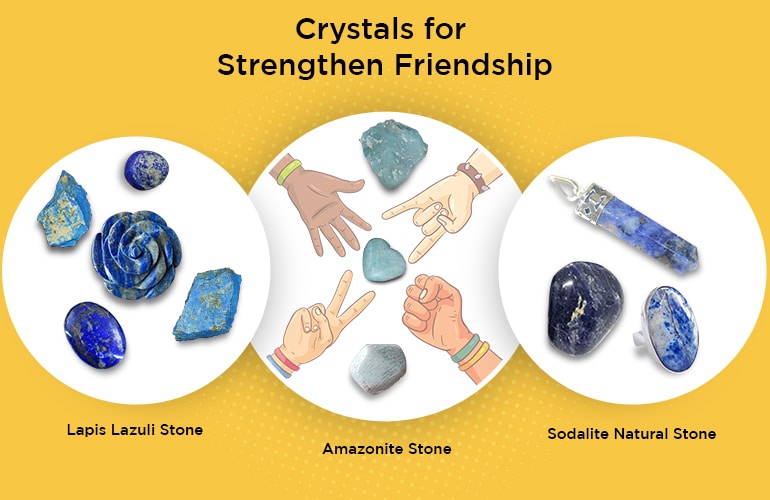 Friends are the relationships you choose for yourself; some friendships are thicker than blood. Your true friends will always cheer for you when you win and give you a shoulder to cry on when you fail. Friendship day is the right time to celebrate such friends who stood with you during the tough times. People tie bands on their friends' hands to signify a long-lasting friendship bond. Choose a band made of crystals for friendship to tie a meaningful band.
When To Buy Crystals For Best Friends?
International friendship day is on July 30th. However, friendship day is celebrated on the first Sunday of August in India, Malaysia, Bangladesh, United Arab Emirates, and the United States. You can buy crystals for best friends if you want a meaningful gift. Certain stones release positive energy in their natural and polished forms, creating a solid bond between two people. Such crystals can be tied together as a band or even a bracelet and can be presented as a gift for your friends. Now is the right time to search for unique friendship day gifts for your loved ones.
Why Is The Friendship Band Popular?
In India, tying friendship band for best friend is a popular tradition. The one with the most friendship bands is considered a popular friend. Tying a band on the wrist is a symbolic affirmation of a long-lasting relationship. You can get friendship bands in several designs and choosing one your friend will like difficult. Explore the world of natural and polished crystals to gift your friend something truly unique and meaningful. For example, if you know that your friend is emotionally vulnerable, gifting them with healing crystals will bring a lot of positivity into their life.
How To Send Friendship Band Online?
The era of online shopping has made it possible for anyone to send gifts to anyone in any part of the world. You can choose crystals to give to friends in their raw and natural form for them to create something beautiful. If you know the type of jewelry your friend will like, you can choose Crystal bracelets or anklets instead of traditional friendship bands. For your guy friend, you can choose pendants and rings so that he will always remember you when he wears them. Our crystal jewelry is genuinely timeless.
How To Choose Crystals For Friendships?
Crystals have their energy and serve as healing stones on many occasions. You must choose crystals for best friends appropriately, not just based on the design and color of the stones. You must understand these stones' effect on the wearer and choose crystals that match your friend's personality. With this meaningful gift, you can undoubtedly inject some positivity into your friend's life.
Crystal Bands For Friendship Day
When choosing friendship bands for your friends, not just any crystal band is good enough. Some crystals ideal for friends are lapis Lazuli, rose quartz, amazonite, sodalite, blue lace agate, carnelian, emerald, unakite, and malachite. Choosing bands and jewelry made using these crystals are ideal because these crystals can strengthen the relationship between the giver and the receiver. You can also buy raw stone crystals to create customized bands and jewelry for your friend.
Rhodonite – Choose Rhodonite Crystal if you want to revive your friendship and bury some nasty fights.
Rose Quartz – Rose quartz fosters harmony and peace.
Lapis Lazuli – Lapis Lazuli crystal inculcates wisdom, creativity, power, and purification when a person wears it. It is an excellent gift for your friend who is about to make some important life choices.
Amazonite – It soothes emotional trauma and removes fear.
Blue lace agate – Blue lace agate is the best choice for your shy friend because this crystal can boost communication abilities. It also instills calmness and peace of mind.
Emerald – Emerald is an ideal gift for partnerships that thrive with balance. It is a great stone ideal for both love and friendship. If you want to foster a deeper relationship with your friend, tie an emerald friendship band.
Carnelian – Carnelian is an excellent gift for your close friend as it brings joy and happiness to the relationship. It also foresters new friendships.
Unakite – Unakite is a good crystal for opening up a heart chakra that brings love, compassion, and empathy into a person's life. It has soothing vibrations that ensure that the love you have for your friend is conveyed.
Malachite – If your friend is going through some trouble, tying Malachite friendship band will help your friend to overcome anxiety with positive vibrations and resilience. It will also keep the wearer away from toxic people that bring negativity.
Sodalite Stone- This Sodalite crystal stone has a calming effect and promotes logical thinking. It promotes friendship and is an excellent choice for your friend who wants to open a new business.
Friendship Band with Customizable Stones
At our store, you can shop for friendship bands made with different types of crystals. You can choose emerald, hematite, rhodonite, rose quartz crystal, or unakite based on the colour and properties of the crystals. For example, choose Rhodonite crystal if you want to revive your friendship and bury some nasty fights. Rose quartz fosters harmony and peace.
Different Crystal Bands and Crystal Products
If you want to give a quirky gift to your friend, choose a crystal friendship band. It is a great gift choice to encourage your friend to enjoy the healing power of the crystal. Many crystals have a calming and soothing effect on the wearer, enabling the individual to focus clearly.
Shubhanjali store is the best place to shop for different crystal bands to surprise your friend with a unique gift. Share your love with your friend and bring some healing magic into their life by choosing exclusive friendship crystals. You can shop online and deliver the gift directly to your long-distance friend. You can also visit our store in Santacruz, Mumbai, with your friend to choose a gift together.
Trending Products