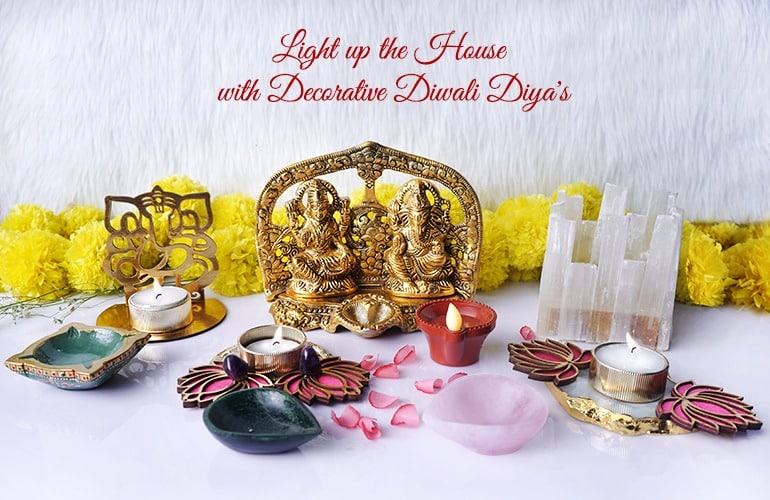 Light up the House with Attractive Diwali Diyas
While the festival of lights, Diwali, is just around the corner this week, excitement has reached new heights for everyone. After all, it calls for a perfect celebration after two years of the pandemic. People are busy cleaning their homes, buying new clothes, cooking snacks, and buying Diwali decor items for this festive season. During this festival, everyone will adorn their house with lamps, lanterns and Diya for decoration. The tradition of lightening up the homes with Diyas is practised because Diwali is on Amavasya, or the no moonlight, as it banishes darkness and adds a spark of light. Also, the evil spirits are quite strong in no moonlight. So, lightening up diya will help get rid of those evil forces as lit corners weaken them. However, lighting up a diya at your home has many other benefits.
Importance and Benefits of Diya
In ancient times, people used to light traditional mud or Cow Dunk Diyas to bring light to their houses to cook and study. Some used it to provide the right pathway for those who walked on the roads, while others used it to welcome the good vibes at night. A lit Diya is believed to be the presence of fire, which helps to bathe our aura with positivity.
According to Hindu mythology, lightening up Diyas with straight wicks signifies taking our soul towards the Almighty. In many homes and offices, people start their day by lighting a Diya as the brightness of flame invites Goddess Laxmi, Saraswati and Durga. During Diwali, we light up Diyas to burn all the evils around us, like ego, anger, greed, desire and attachments. While a Diya has ample benefits by summing it up to destroy the negative vibrations around us, we also can use Diyas in multiple ways.
Uses of Diya in Diwali and Diwali Decorations
Nowadays, Diyas are almost used everywhere for everything. Be it a clay Diya or a crystal Diya; they amp up the ambience look by spreading light and a positive aura.
Diya for Diwali Decoration
Deepavali means the festival of lights. In Sanskrit, 'Tamso-ma-jyotir-gamaya' is a shloka that signifies the journey from dusk to dawn. It is usually chanted to welcome Goddess Maha Lakshmi. While you're looking forward to decorating your house with Diyas, our LED Diya and Water Diya are perfect as a centrepiece for your home. Just dip them in a bowl of water, and they will elevate the look of your corner. However, if you want to buy a masterpiece, our Selenite Crystal Diya would not only brighten up your space but also bring peace. You can also opt for our Organic Panchgavya Diya, which spreads fresh fragrance around you by adding a spark of light.
Rangoli Diya
Do you have a small verandah space? Give a twist to your rangoli with our Crystal Chips Lotus Rangoli Diya, which consists of Garnet crystal chips within the design. While the lotus symbolizes enlightenment and good fortune, Garnet brings hope and optimism. Light up this rangoli crystal Diya to add a spark of light with positive vibrations around you. We also have Seven Chakra Rangoli Crystal Diya, which brings good luck and prosperity by enriching your well-being. You can replace tea lights after every use to add a spark to the entrance of your home.
Diya for Pooja
We have specially designed Laxmi Ganesh Umbrella Diya for Diwali Pooja. You can light up this Diyas during your Lakshmi Pooja to welcome Goddess Lakshmi with all the light at your home. We also have a classic Agate Candle Holder with which you can perform Aarti during your Diwali Pooja. Agate crystal relieves you from anger, nervousness and stress, while the Diya burns the negative vibrations from around you.
Diya for Meditation
Oh yes, you can meditate with our crystal Diyas, as they possess the properties to create positivity within you. Lighting up our Wooden Lord Ganesh Shadow Candle Holder in a dark room will give you peaceful vibes while you chant mantras. If you want a smaller crystal Diya, we have them hand-painted especially for you.
Summing it up, we have curated a collection of pretty crystal Diyas for you. Browse our page and bring light to your home by adding them to your cart.