This custom-made Pregnancy Crystal Bracelet features carefully selected beads of Crystal Red Carnelian, Moonstone, and Rose Quartz, beautifully strung together on a durable and flexible elastic cord. The bracelet is available in various sizes to ensure a comfortable fit.
Carnelian: Red Carnelian is a stone of vitality, courage, and motivation. It promotes a healthy flow of energy, enhancing physical strength and stamina during pregnancy. This crystal also instills confidence and helps overcome fears associated with childbirth.
Moonstone: Moonstone is a soothing crystal known for its connection to feminine energy and intuition. It supports hormonal balance, and emotional stability, and nurtures motherly instincts. Moonstone also assists in easing anxiety and stress during pregnancy.
Rose Quartz: Rose Quartz is the stone of love, compassion, and harmony. It promotes a deep bond between the mother and the growing baby, enhancing the nurturing aspect of pregnancy. Rose Quartz also brings a sense of calm and emotional healing.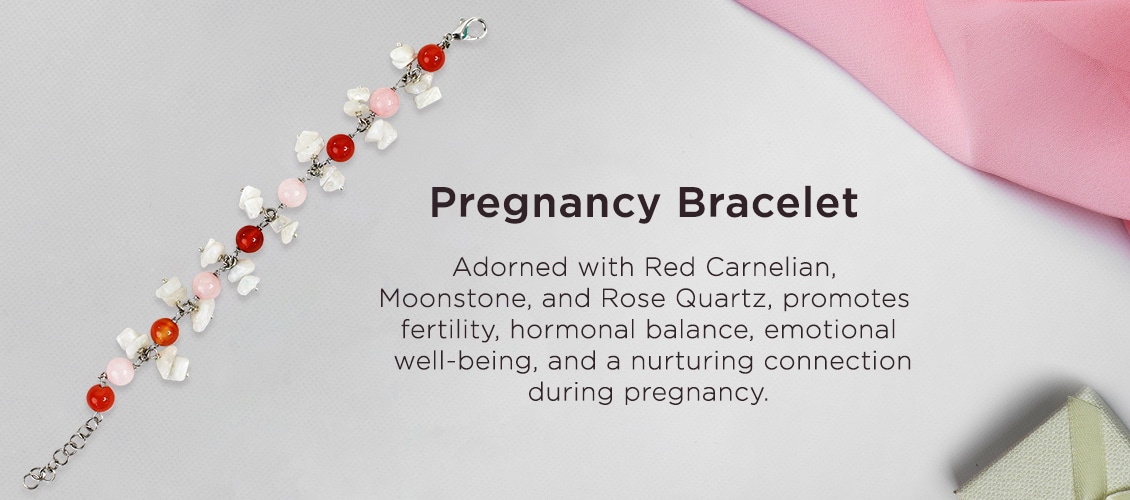 Please Note: You will receive one crystal similar to the ones photographed. Photos show typical quality. Each and every crystal is unique.
Crystal care tips:-
Remember to keep cleansing and charging your crystals every two to four weeks.
If your crystals get damaged/broken, burying them in the earth or immersing them in a river or lake is recommended.