Customized Crystal Anger Reliever stones rakhi/bracelet made up of Howlite, Clear Quartz, Amethyst, Rose quartz, and Peridot beads. This Rakshabandhan, Surprise your brother with this beautiful Anger Reliever rakhi by designed by Shubhanjali. Apart from being a symbol of your everlasting bond, it also helps in releasing toxins, building immunity and improving mental concentration.
Amethyst: is a natural stress reliever that also encourages inner strength, spirituality and intuition. It attracts positive energy while ridding the body or your home of negative energy. Promotes sobriety, helps break addictions; encourages spiritual awakening and peace; transformation and meditation; calms, balances, and clears aura.
Rose Quartz: Heart Chakra: the stone of Universal love. It restores trust and harmony in relationships, encouraging unconditional love. Rose Quartz purifies and opens the heart at all levels to promote love, self-love, friendship, deep inner healing and feelings of peace.
Howlite: A calm and peaceful stone? Helps to reduce anxiety and stress Encourages emotional healing and removes selfish, rude and greedy behaviours. Helps the bones.
Clear Quartz: Quartz has the power to focus, amplify, store, transform, and transmit energy. It is great to use in combination with other stones as it amplifies the other stone's energy as well as transmits its own. Known as the Master Healer, Quartz produces a field of negative ions while simultaneously ridding its surroundings of harmful positive ions, protecting the wearer's aura. It is known to stimulate the immune and circulatory systems, eliminate toxins, and enhance energy flow Clear Quartz cleanses and purifies, increases awareness and clarity, harmonizes the chakras, and are beacons of positive energy and light.
Peridot: Peridot also reduces stress, anger & guilt, opening our hearts to joy & new relationships. It encourages you to accept change & helps you to become motivated by life changes.
Product Details:
Natural Crystal Round Beads
Clear Quartz- 8 mm 1 Bead
Peridot- 8 mm 2 Beads
Rose Quartz- 8 mm 2 Beads
Amethyst- 8 mm 2 Beads
Howlite- 8 mm 2 Beads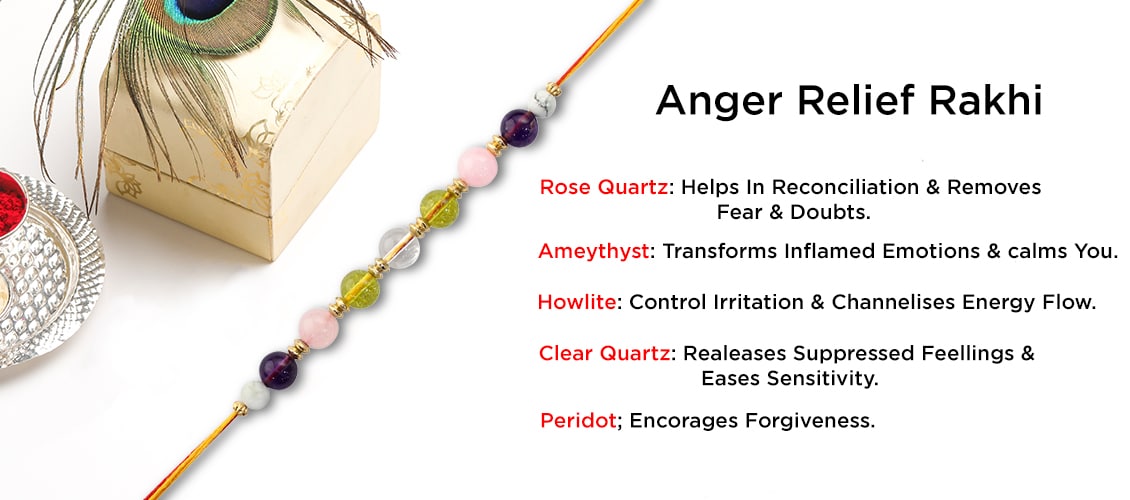 Anger Relief Round Crystal Beads Handcrafted Rakhi.