Present you a crystal bracelet that will calm your nerves and help in controlling your panic attacks – The Panic Attack bracelet. It is created using crystals like Sodalite, Lepidolite, Howlite, Blue Lace Agate and Clear Quartz.
How will these Crystal work
Sodalite aids in healing panic disorders by releasing guilt, fears, and phobias.
Lepidolite contains a natural form of lithium which helps ease stress, and panic attacks and soothes emotions by releasing negativity.
Howlite is one of the best stones for all types of panic disorders as it calms the mind and fiery emotions such as anger, frustration etc.
Blue Lace Agate releases one from gloominess and protects one from panic attacks with its soothing vibrations.
Clear Quartz offers holistic healing and is a great stone for stress as well as when faced with panic attacks.
Stretchable Elastic Handmade Bracelet.
Size- Standard | Weight-15-20gm | Round Beads.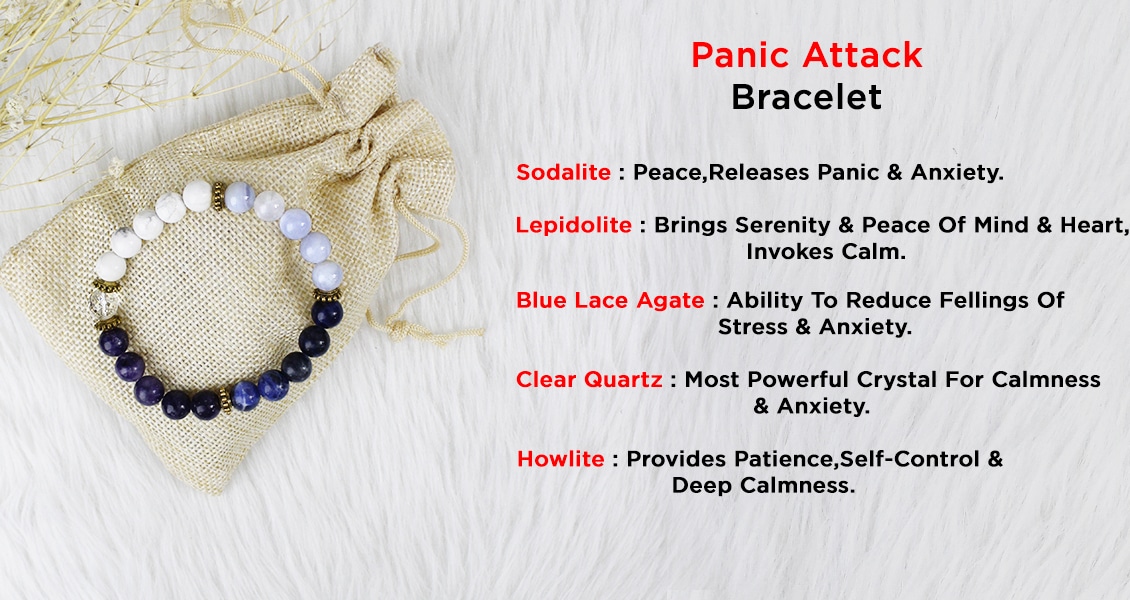 Please note: You will receive one crystal similar to the ones photographed. Photos show typical quality. Each and every crystal is unique.
Crystal care tips:-
Remember to keep cleansing and charging your crystals every two to four weeks.
If your crystals get damaged/broken, it is recommended to bury them in the earth or immerse it in a river or lake.